Hi Aspirants,
In this article we will cover all detailed and important information about "RBI Exam Assistant 2022" like Exam Pattern, Previous year questions, Exam Pattern, Syllabus, etc.
As
RBI Assistant 2022
notification has already released for
950 Vacancies
, you must be exam ready as it is one of the most difficulty exams that happen in our country. Those who have already attempt
RBI Assistant 2019
, must be well aware of the fact how important it is in today's time to be accustomed to different types of questions and different level of mocks. Keeping all the important aspects in mind, we at
Testzone
, have developed
RBI Assistant 2022
Test Series with all the important features. Let's now discuss:
RBI Assistant 2022 Notification Out
RBI Assistant 2022 Exam notification is out now. The exam is going to be conducted on 27th March to fill 950 vacancies. Selection for the post will be through a country-wide competitive examination in two phases i.e. Preliminary and Main examination followed by a Language Proficiency Test (LPT). The candidates have to excel the same with high marks to get placed with the central bank of the country i.e. RBI. The notification can be downloaded from the official site -
https://www.rbi.org.in
.
RBI Assistant is the entry-level post in the bank and the candidates who fulfill all the basic eligibility criteria are called for appointment under the bank. The candidates who are aspiring for the RBI job can check out the RBI Assistant 2022 Exam Pattern and Syllabus along with the preparation tips on this blog.
RBI Assistant 2022 Overview

The overview of the RBI Assistant 2022 can be checked in the table mentioned below:

| | |
| --- | --- |
| RBI Assistant Events | Major Dates |
| RBI Clerk Notification Releases on | 14th February, 2022 |
| Online Application Starting from | 17th February, 2022 |
| Dates of Payment of Application Fees | 8th March, 2022 |
| RBI Clerk Preliminary Examination | 27th March, 2022 |
| RBI Clerk Mains Examination | May 2022 (Tentative) |
How Testzone is the Best Test Series for RBI Assistant 2022 :

Interface-wise:
At Testzone, we offer both Smart as well as Real Interface of RBI Assistant Exam 2022 that help a user in many ways.

How Smart Interface helps?

If you are one of those students who have just started their preparation and are in a habit of getting stuck to questions which are relatively difficult to solve and thus tend to lose easy marks by wasting your time on such not so worthy of your attempt questions, Smart Interface of RBI Assistant Exam by Testzone Test Series comes for your rescue. Testzone Interface helps candidates brains get into practice of skipping such difficult questions by raising an alarm the moment a test taker crosses the average user time on a particular question. Moreover, you can measure the difference in your scores of two tests – one taken with suggestion mode and the one taken in the real test mode. This will surely help you become aware of your mistakes related to question picking habit and would help you develop a right strategy for the real exam.

How Real Exam Interface of RBI Assistant Exam helps?

It is surely meant for the advanced level candidates who are already aware of the exam taking strategy and just want to sharpen their axe. Real Exam Interface at Testzone is quite similar to the actual exam interface for a Bank Exam. It thus helps candidates getting accustomed to the real exam mode.

How Testzone is the Best Test Series for RBI Assistant 2022:

Content-wise:
High quality content developed by real RBI Assistant 2022

We at Testzone have a team of those who have already qualified for RBI Assistant previously. We take every test with utmost seriousness and content development for each test goes under high level of scrutiny. Be it questions development or proofreading tasks, we have a team that is best in class. Maximum number of questions in our Test Series are consistently developed by the already working professionals from State Bank of India itself and they work with us on part-time basis and keep on developing high quality content for us. Besides, we have a dedicated content team in place that also is highly qualified and professional to create quality content every day.

Every question that is picked by our team is supplemented with a detailed explanation. Specifically in Quant and Reasoning section we have provided illustrations so that you can understand the concept and logic applied. Besides, in English language section every single question is explained with references and examples so that users can understand the logic behind the explanation in a lucid manner.


Inclusion of New Pattern Questions, For past few years, we have been witnessing a drastic change in pattern of questions in RBI Assistant 2022 and IBPS PO exams and keeping the same in mind, we try and include all new pattern questions in our Tests of RBI Assistant 2022 Test Series. Besides, we also try and challenge a candidate's mind by including various types of questions across all the sections.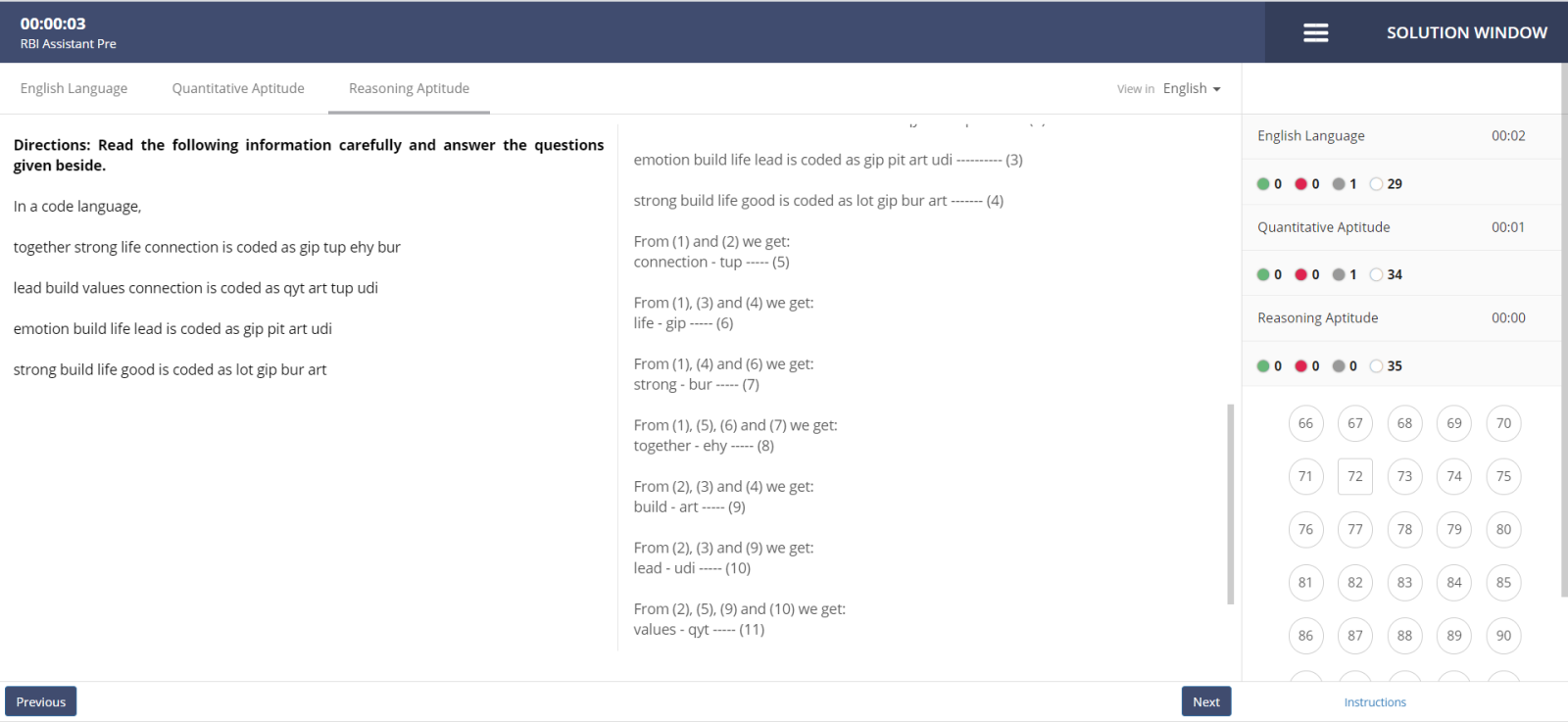 How Testzone is the Best Test Series for RBI Assistant Exam 2022 :

Analysis-wise:
Testzone is truly unparalleled when it comes to After Test Analysis. Candidate's Rank, Percentile, Accuracy Percentage, etc are some common features that every other Test Series platform offers. However, the key-points that make
Testzone's
Analysis different from the rest are as follows:
At
Testzone
, a candidate can evaluate what questions are picked by himself vs topper in four quarters of time of the test/section. This analysis features helps you understand the question selection strategy by topper. You can also evaluate your strategy with your past test here.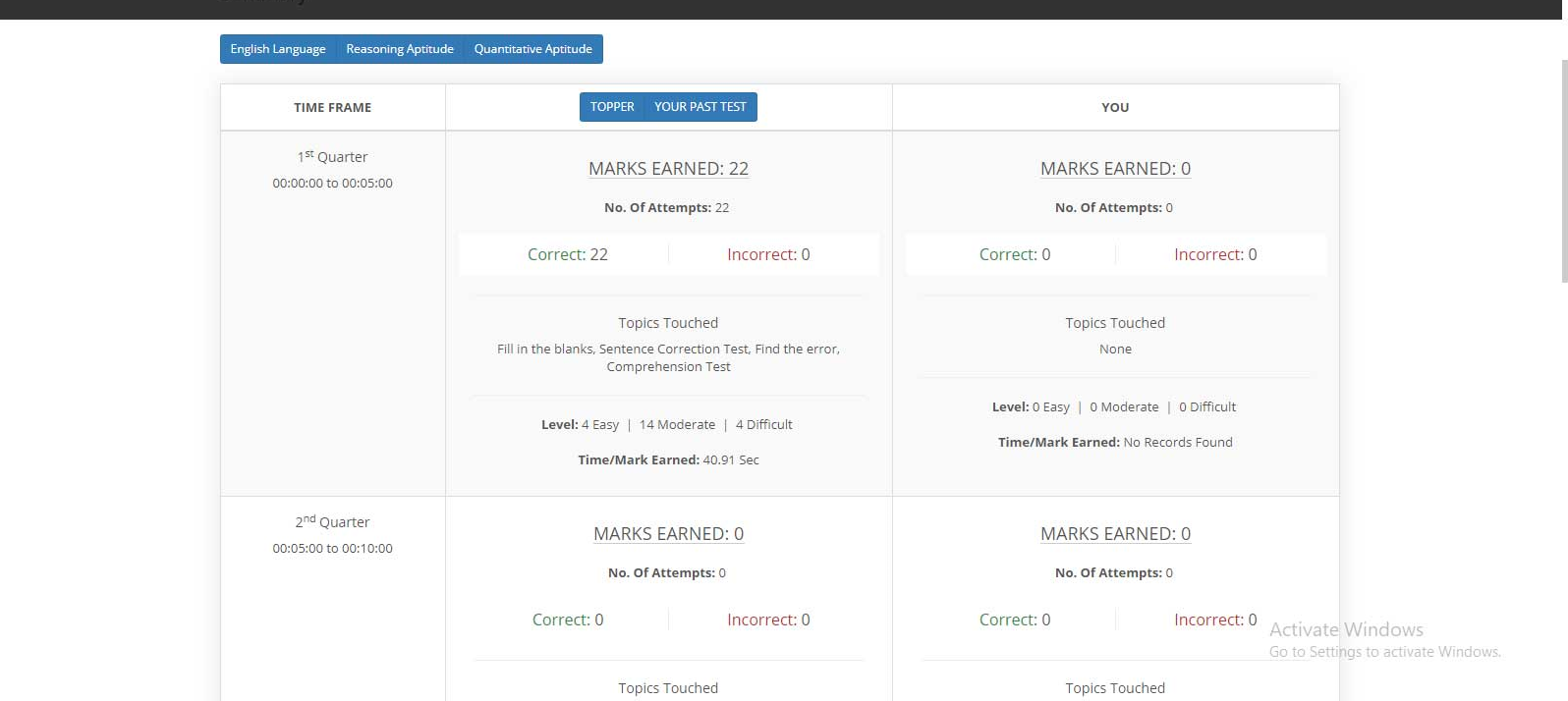 Best Online Mock Test Series for RBI Assistant 2022
These graphs are really informative as they show you how you are performing over a number of tests on various fronts: Percentile, Accuracy and Easy Question Selection.



RBI Assistant 2022 Free Online Mock Test Series
Attempt Free Online Mock Test for RBI Assistant Pre below:
RBI Assistant 2022 PRE 2022
RBI Assistant 2022 PRE 2022 Best Online Mock Test Series
Have a look at the screenshots below:
Under this tab, you get aware of the topics on which you were strong as well as weak in a particular test. Your strength and weakness are measured on the following criteria:
Your marks in the topic
Your accuracy for the questions of the topic
Your speed to solve the questions of the topic
Besides, we also offer Analysis features like "Accuracy", "Time distribution" and "Question Selection" which are equally important if you are a really serious candidate of RBI Assistant 2022 exam.

So what are you waiting for?
TAKE A FREE MOCK TEST OF
RBI Assistant Pre 2022
NOW
And prepare well for upcoming
RBI Assistant 2022 exam.

Looking for free topic wise free quizzes links are below,
For
Quantitative Aptitude
For
Reasoning Aptitude
For
General English
Regards
Team Smartkeeda
---
Latest Posts
---