The first question that strikes the mind of a genuine aspirant about
the best test series for SBI Junior Associate 2023
or the test series to be bought to ace the examination in the first attempt!!
You all must be quite aware of the importance of taking mock tests before any examination. It gives you a good idea of where you stand in terms of preparation. It also provides you with a certain amount of experience required to deal with the examination pressure and helps you to learn from your previous mistakes.
Therefore, it is vital for a student to opt for
the best test series
that matches the level of the upcoming examination
SBI Clerk 2023
and prepares him to face all the
twists and turns
that might come on its way.
Smartkeeda
provides you with a uniquely designed test series platform, "
Testzone
", to help you practice and clear the examination in the smartest way possible.
How Testzone helps you to hit the bull's eye?
Having discussed the importance of taking mocks before any examination, let us now understand how
testzone
helps you to go that extra mile to put you ahead in the game. We at
testzone
extend a helping hand to the aspirants by
providing the best features
, all in one place to make your preparation journey to
SBI clerk 2023
a cakewalk and help you achieve your goals in the smartest way possible.

In this article we are going to discuss about the following features provided by testzone which makes it the best test series for any banking examination. Here is a list of the best features provided by "
Testzone"
that makes it the
best test series for SBI Clerk 2023 Examination.
1. Testzone smart interface
2. Variety of patterns
3. Smart analysis
4. Performance Graph
5. Strong vs. weak areas
6. Accuracy analysis
7. Speed analysis
8. Comparison with the topper
9. Question preference
10. Time distribution
11. Reattempt mode vs solution mode
12. Retake the full-length test
13. Smart explanations
14. Well-organized doubt-asking feature
15. Conclusion
Getting bored during the long study sessions?
Testzone allows you to choose between two different interfaces before entering the mock test:
Normal mode: It allows the user to understand his position with the smartly designed interface. It completely imitates the actual examination interface for the SBI clerk exam and helps you to give an authentic examination feel.
Suggestion mode: This mode helps the user to view important analytics and easy question on the go. The user can understand the examination pattern and wisely decide the type of questions that should be attempted first to maximize their score in SBI clerk 2023.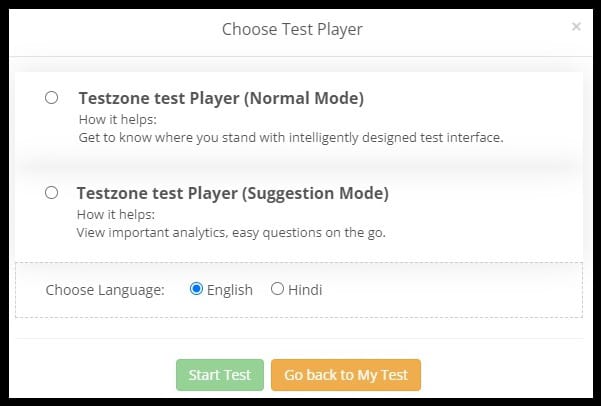 The
unique interface
of testzone helps the user to take the mock test according to his preparation making it the
best test series for SBI Clerk 2023 Examination.
2. Variety of patterns
Testzone
offers you a mock test series having plenty of tests with
a combination of patterns and difficulty levels
. A user can choose and take the test as per his preparation and preference.
Examination pattern based: To do well in the examination hall, a candidate must be aware of the latest examination questions trend and the kind of questions that might appear in your exam as well. Testzone provides you with the mock test series strictly based on the latest examination pattern for SBI Clerk 2023 and maintains the level of questions according to the trend.
Difficult level: Here, the difficulty level of the questions is a bit higher than the actual exam. Our team of experts focuses on the topics that might be twisted in the examination and develops high-quality content that helps you to deal with the challenges that might appear on 'D-Day'.
Moderate level: At this level, our subject matter experts have created the tests as per the latest trends and patterns of the SBI Clerk examination. Testzone moderate-level mock tests are designed to challenge the candidate's preparation and help the candidate to perform to the best of his ability.
Easy level: This is the confidence-booster part of the testzone mock test series. Here, the level of questions is a bit easier. At this level, the student learns to think and act quickly and strategizes to enhance his speed and accuracy.
3. Smart analysis
The smart analysis of
Testzone
gives you a reality check of your preparation and shares a clear idea of
where you stand among your competitors
who have already taken the
SBI clerk 2023 mock test
. Having clarity of your position will motivate you to buckle up and boost your preparation for the upcoming exam. Just after completing the test, you will get to know
your rank, percentage, percentile, and overall accuracy
for that particular mock test. It will also let you know if you have
cleared the set cutoff
for that mock test.


4. Performance Graph
Visuals are more effective than text in human understanding.
The "
performance graph
" feature of
Testzone
prepares a personalized graphical report based on your overall performance so far that allows you to visualize your progress in an understandable and coherent way. This will help you to create an
effective strategy to score maximum in SBI Clerk 2023
examination making testzone a helping buddy during your preparation and the
best among all the available test series
in the market.
The graphical representation of your performance conveys quick and easy-to-understand information that allows you to conclude and
draw insights
into the following areas in each subject:
Accuracy: It basically displays the percentage of correct questions attempted by the user to the total number of questions attempted. Testzone performance graph checks and records your overall accuracy and topic-wise accuracy which helps you to understand and work on your strengths and weaknesses.
Percentile: It provides a graphical representation of your score in comparison to other test takers. If you are a 95 percentile person, it means you scored more than 95% of the candidates who took the same test.
Topic strength: The data based on topic strength in each topic gives you an idea of how much you have improved yourself with each test in each topic. It motivates you to push yourself harder..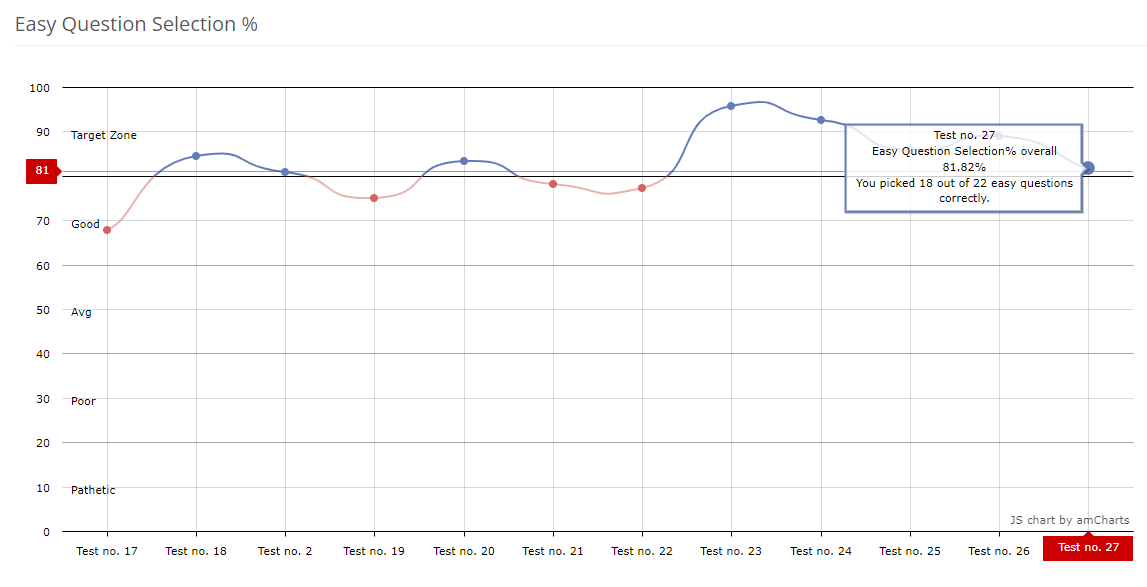 5. Strong vs. weak areas
The main objective of analyzing a mock test is to identify your strength and weaknesses. An aspirant needs to
choose the right test series for SBI clerk 2023
that helps him to build a perfect roadmap to track his progress.
Testzone
checks and prepares a topic-wise detailed report of your areas of strength and weaknesses in each subject.
It displays
how accurately and how quickly
did you attempt those topics and in which areas you need to improve yourself in terms of speed or accuracy. It also displays your topic strength within each subject and overall score for that particular topic which gives you an in-depth idea of your strengths and weaknesses that allows you to prepare for the next
testzone assessment
even better.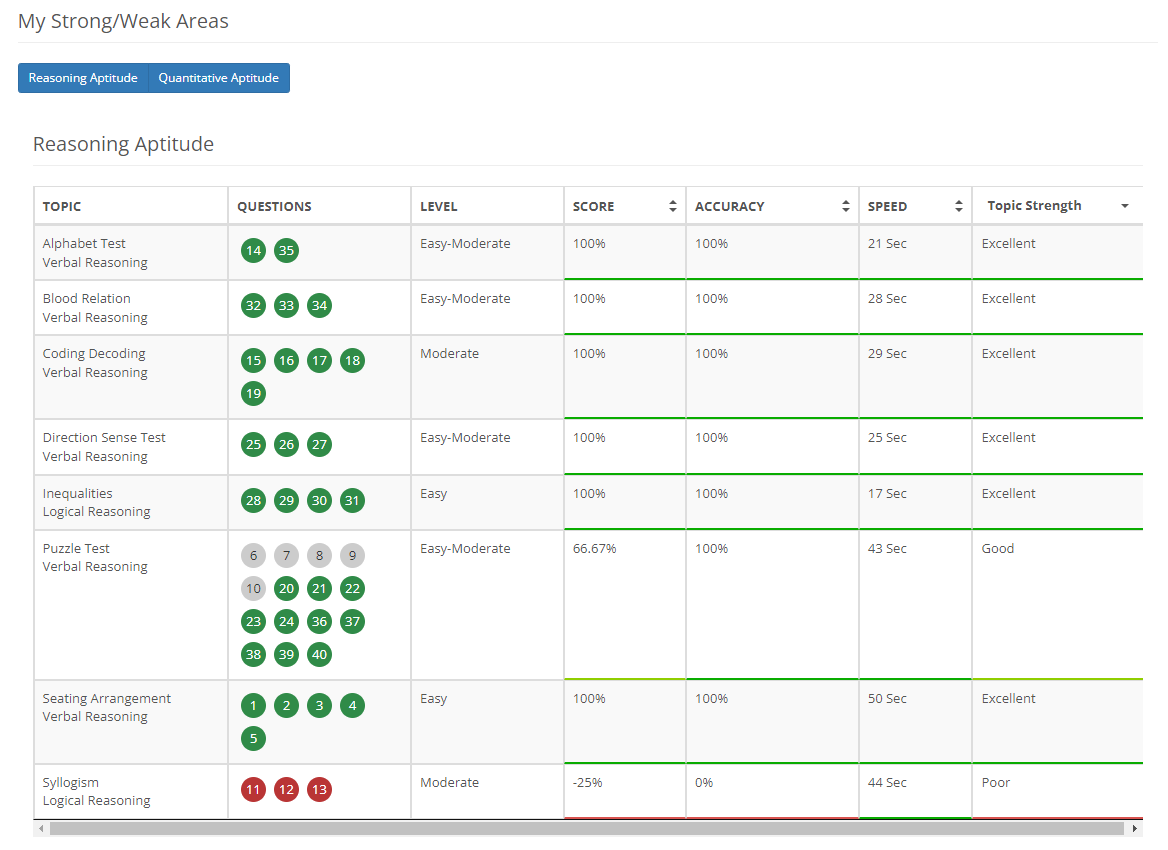 6. Accuracy analysis
Accuracy and speed are the two most important factors that determine your success in a banking examination. It is better to attempt 80 questions with 100% accuracy than to attempt 100 questions with 80% accuracy.
Testzone accuracy analysis
shares your overall accuracy in each subject in numerical as well as percentage form. It compares your accuracy to the topper's accuracy and with your own accuracy in the previous tests taken by you. This analysis will help you to attempt questions with
maximum possible accuracy in
SBI Clerk 2023 examination.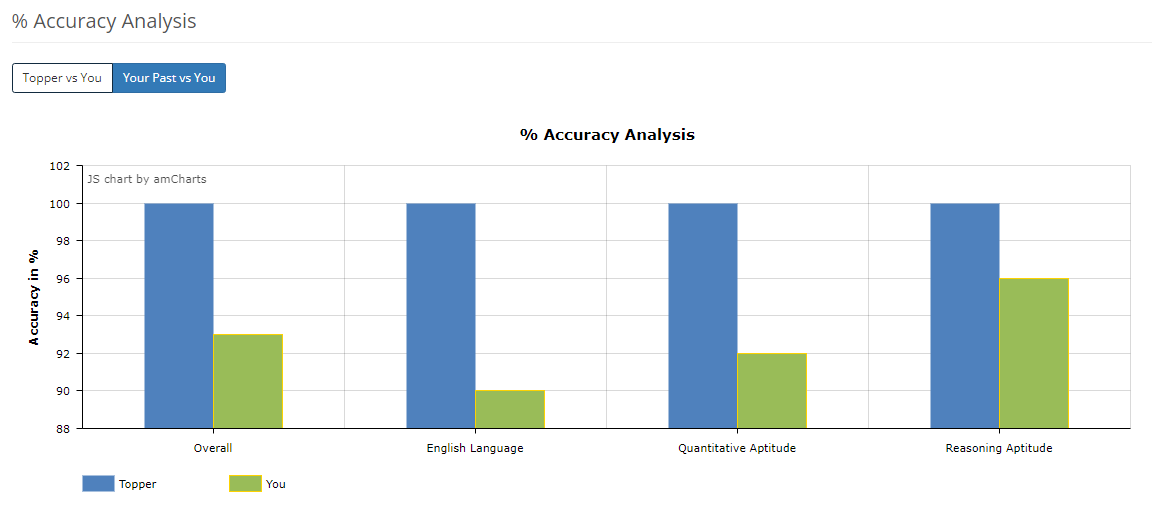 7. Speed analysis
Apart from good accuracy
, banking examinations
also require good speed
. The speed analysis report feature of
Testzone
breaks up your performance in four quarters and compares your speed in each quarter with the speed of the topper. It displays the amount of time spent by you in each quarter on each topic and the score earned by you in that time.
It also displays the number of topics touched by you in each quarter in comparison to the topper. This comparison helps you to analyze your mistakes and the kind of
strategy followed by a topper to clear SBI Clerk 2023 with flying colours.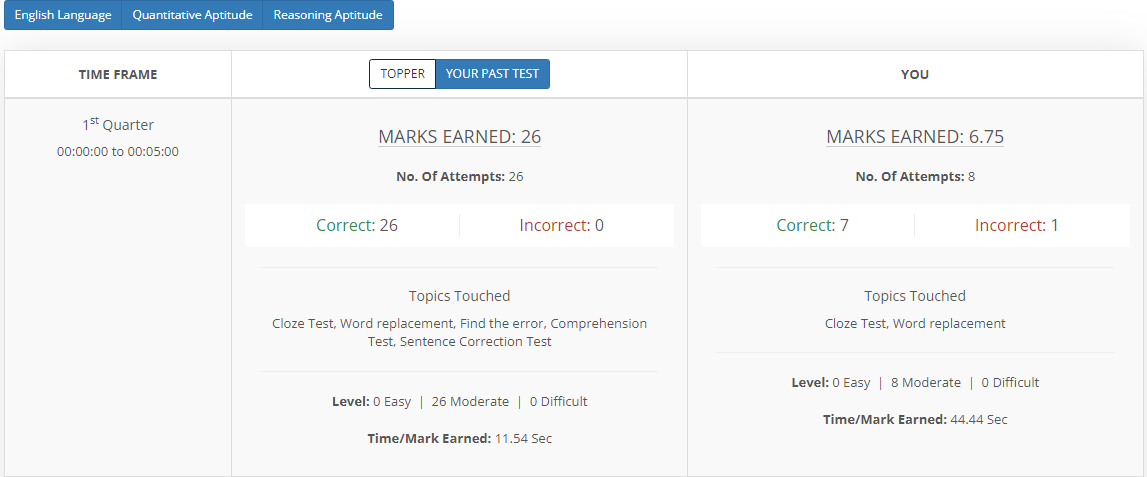 8. Comparison with the topper
Testzone comparison filter
helps you to know your strengths, weaknesses, and performance against the topper by comparing your analytics to the topper's
.
It also displays the time spent by the topper on difficult questions, his accuracy, and the type of questions skipped by him to boost his score. In this way, testzone helps you can understand the approach used by the topper in the
SBI clerk examination
to hit the nail right on the head.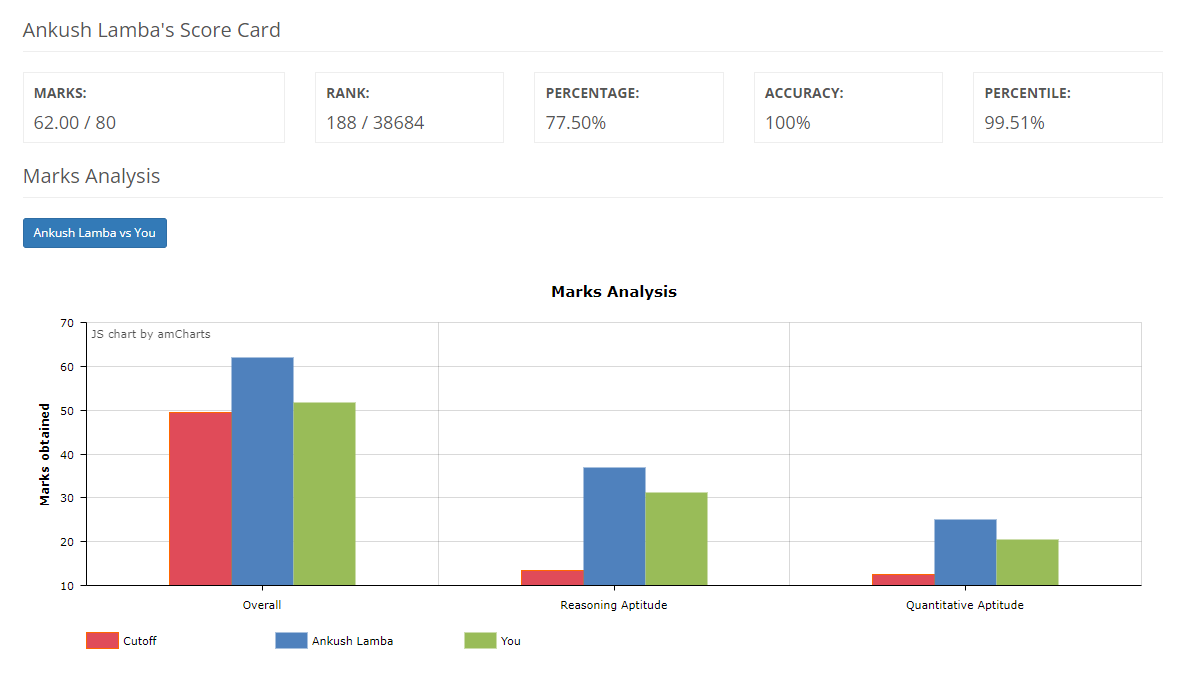 9. Question preference
This section of
testzone
smart analysis displays how well did you perform in the
easy, moderate, and difficult questions
provided to you in the test. It gives a
section-wise detailed report
with the difficulty level of questions and the number of questions correctly/incorrectly answered by you. In this way, in addition to knowing what went wrong with your preparation, you also get a clear idea about what went right and wisely focus on the required topics.

10. Time distribution
Time management
is the most important part of any banking examination. If handled well, you'll easily be able to sail through. Therefore, you need to practice and understand the judicious use of your time to manage it well on your D-Day.
Testzone
keeps a track of your spent time and gives you a clear representation of the topics that consumed most of your time. It allows you to devise better techniques to solve those questions in stipulated time and manage your time better.
Testzone
graphically displays
how the topper managed his time
in each subject during the mock to score maximum in that topic. It also keeps a record of your improvement by creating a personalized graph of
"past vs you"
that gives you an idea of how better are you at
challenging yourself.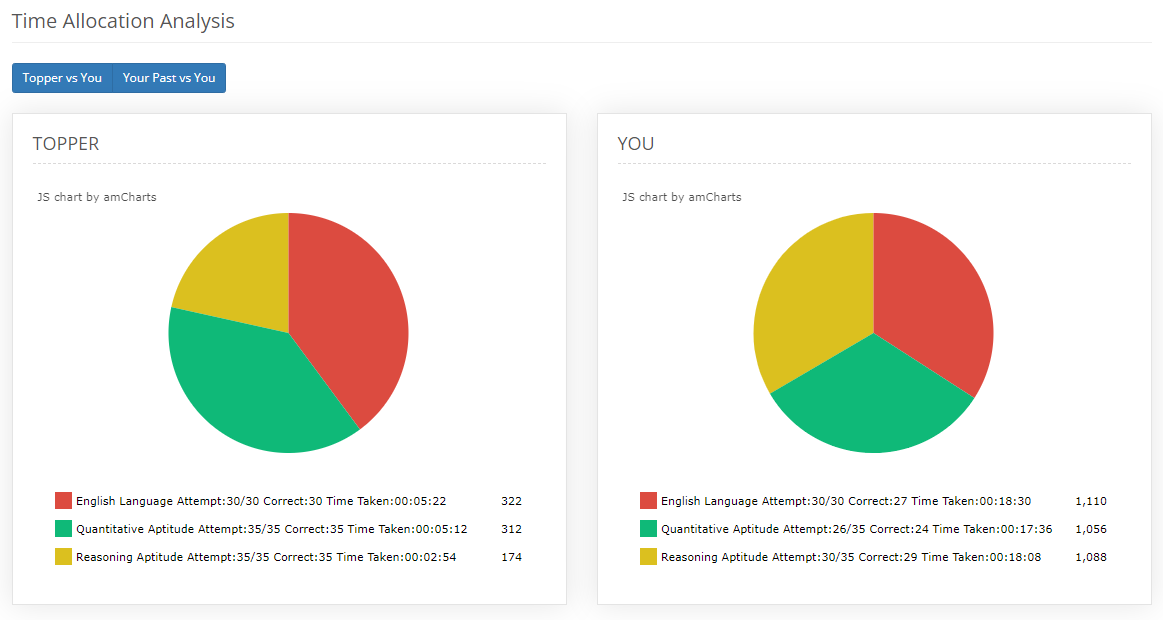 11. Reattempt mode vs solution mode
After completing the test, you can re-enter the mock either in the
Re-attempt mode
,
Solution mode, or compare yourself with Ankush Sir.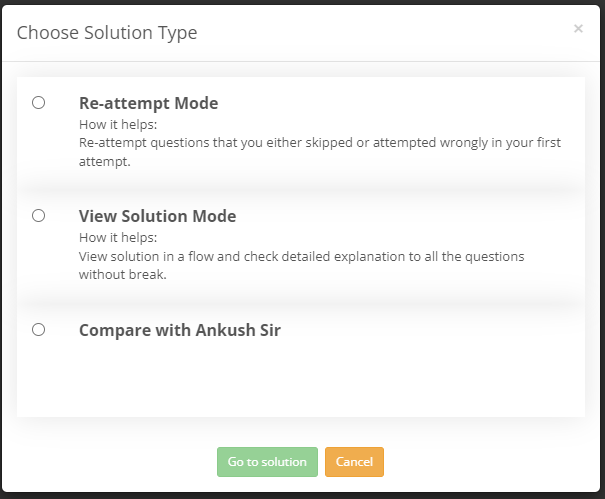 Reattempt mode: In re-attempt mode, your incorrect answers will not be displayed and hence you will get another chance to re-attempt the questions that you either skipped or attempted incorrectly in your first attempt.
Solution mode: This mode allows you to view solutions in a flow and check detailed explanations to all the questions without a break.
Compare with Ankush sir: Ankush Lamba sir is one of the top educators in the field of banking examinations. Testzone offers the mode where you can compare your performance and analytics with Ankush Lamba sir and understand his approach to the mock test. This is one of the best and exclusive features of testzone which makes it the best among all test series.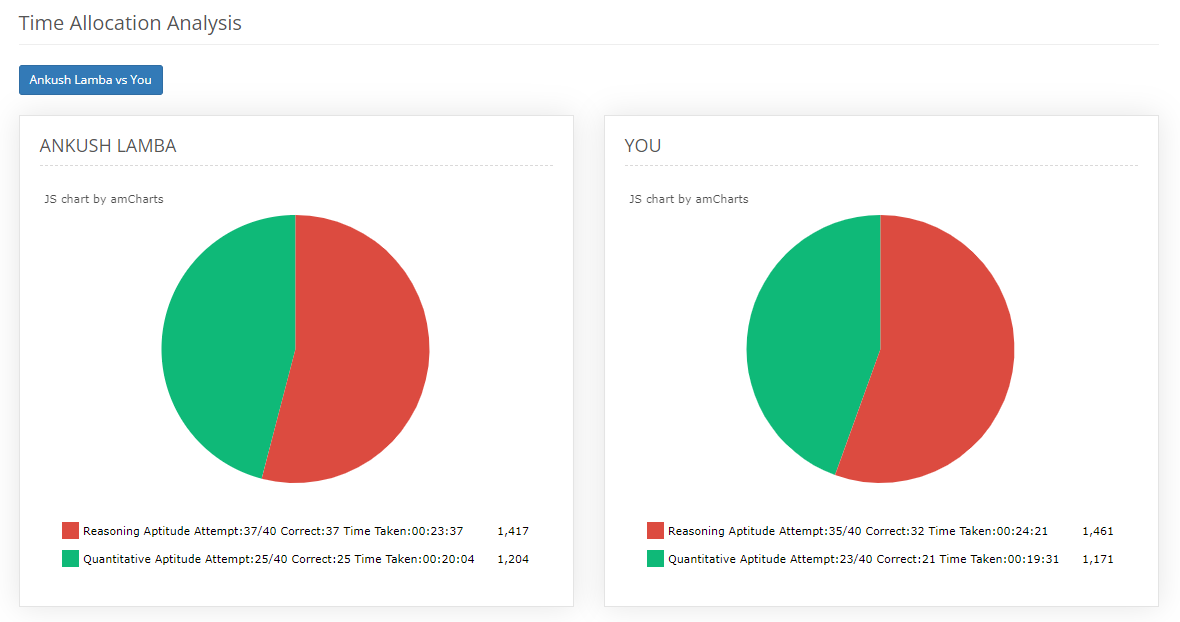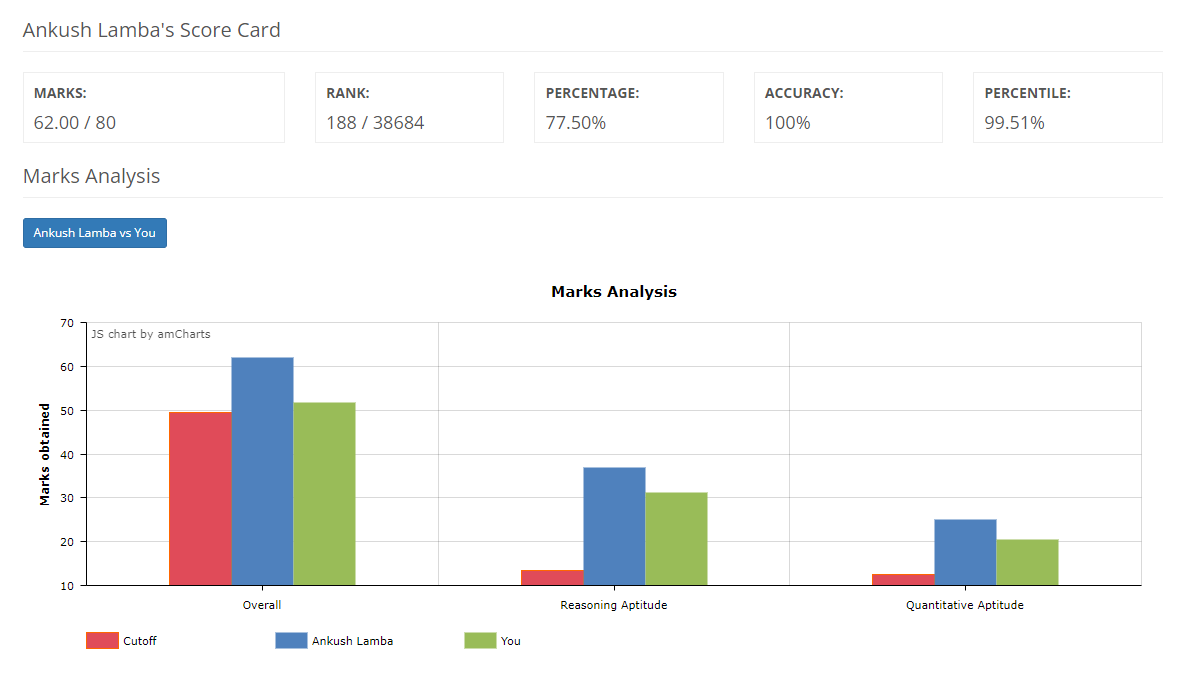 12. Retake the full-length test
After attempting a test, if you feel that it was not your best performance and you could have performed better,
Testzone
understands your concern and allows you to retake that particular test in the normal mode. In full-length retake mode
,
you can re-attempt the complete test and evaluate your performance by
comparing it with your previous performance
. It will help you to analyze the improvement in your accuracy and speed, and motivate you to approach the questions more efficiently.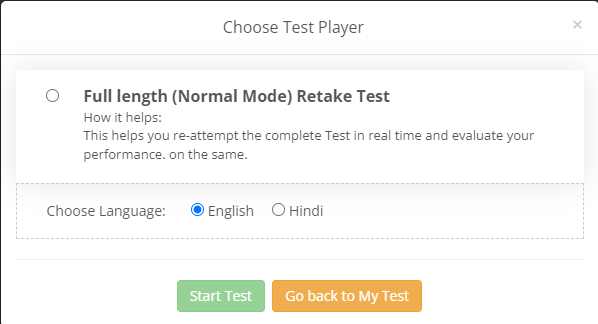 13. Smart explanations
Success requires a perfect combination of hard work and smart work
.
Testzone
believes in providing smarter approaches in the explanation of each question that will help you to solve them in minimum time with maximum accuracy during the
SBI Clerk 2023 examination
. To make your preparation journey a cakewalk, the explanation part of the
Testzone
mock test is given the
highest importance
so that the user is able to grasp it easily and enhance his performance with each test.
14. Well-organized doubt-asking feature
Apart from delivering quality content,
testzone
also provides a streamlined
doubt-asking feature
in the solution window for each question. You can send your doubt or raise an objection by clicking on the "
report or ask a doubt
" tab for any question and our experts will get back to you
within 24 hours
with a proper solution to your query.
15. Conclusion
Dear aspirants, having discussed the key features of
the best test series for SBI Clerk 2023
examination, it's the high time you buckle up your preparation and try squeezing at least one mock test into your timetable. We advise you to take as many mock tests as possible before entering the examination hall which will help you to build enough confidence and handle the examination anxiety with ease. To help you take the right decision, we provide you with your first mock test absolutely free.
You can attempt our exclusively designed mock test for SBI clerk 2023 here for free!
Getting bored during the long study sessions?
Do you repeatedly switch to different social apps to break the monotony of the long study session or to
"refresh your mind"
? Smartkeeda has hammered out this problem as well by developing an innovative and efficient solution to it.
Smartkeeda
brings you
India's first Education-Gaming-Social (EGS)
platform, "
QUDOO
" that helps you to test and enhance your knowledge in a fun-filled way.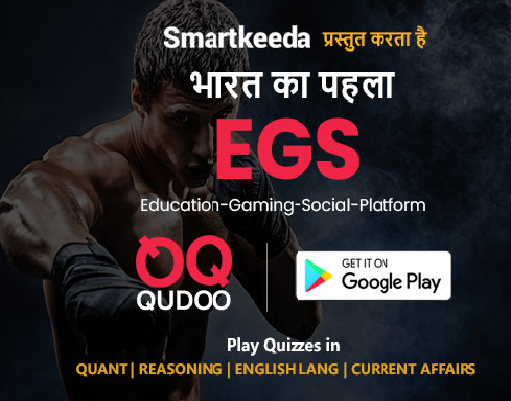 Qudoo
provides you with absolutely
free high-quality short quizzes
for Banking, SSC, Insurance, Railways, and other competitive examinations that can work as
a productive filler
between your long and stressful study sessions.
As
India's first EGS platform
, Qudoo allows you to battle in different subjects like
Quant, Reasoning, English, GS, and current affairs
with yourself or with other users in real time. You can earn coins, check your All India Rank, and connect with the other aspirants through your inbox as well.
Click here to download the Qudoo app now!
!
Thanks and regards (Team Smartkeeda)
---
Latest Posts
---