"क्या कर रहे हो आजकल? कहीं हुआ?? कब तक तैयारी करोगे?"
"बेटा अब तो फलाने का लड़का भी लग गया, तू कब लगेगा।"
"कब तक मुफ्त की रोटियां तोड़ोगे?"
"कितने दिन घर में पड़ा रहेगा, कोई छोटी मोटी नौकरी देख ले"
"नौकरी नहीं लगेगी तो कौन शादी करेगा?"
Do these lines seem to be familiar to you? If you're going/went through a preparation phase of any government exam, you must have heard these once your life.
Hi everyone, I am Piyush Nirwan from Jaipur. Let me apprise you of my journey from failing at mathematics in class 8th to securing AIR 421 (Excise Inspector) in SSC CGL 2018, my experiences, the challenges I faced, and how I managed to crack SSC CGL in my first attempt while fighting against Anxiety, Social Pressure & extremely disappointing Academic performance.

Academic Life
8-9th class - Below average score in all subjects, 10% - 30% in maths
10th – 77%
IIT and AIEEE - very low rank
Engineering − 9 backlogs
No Campus placement
Very average off-campus placement
Work-life
Worked in the telecom sector (very average package of 1.4 lakh p.a)
Exams I Failed
IBPS PO – Failed in Mains
SBI PO – Failed
Bank of Baroda – Failed
RBI – Failed in Pre
SSC CHSL − Failed
SSC CPO − Failed
Exams I cracked
SSC CGL 2017 first attempt − AIR 1903 (Excise Inspector, Chennai Zone)
SSC CGL 2018 − AIR 421 (Excise Inspector, Vadodara Zone)

My Success Story
At school, I was a below-average student. Whatever I read, I was unable to absorb. I was unable to understand the content in front of my eyes. If you feel like it might be a problem with my English language, I was unable to process Hindi as well. It was pretty discouraging for me as it snatched away my concentration and interest in studies.
In class 8th, I failed in Mathematics and Social Science with an aggregate score of 32% and you know what happens after that: Taunts ("पढ़ाई रहने दे, कुछ धंधा ही कर लेना। इतना पैसा लग रहा है, कुछ तो शर्म कर।" " पूत के पग पालने में दिख जाते हैं।"), Comparison ("बच्चों के 95% आ रहे हैं, तुम पास भी नहीं हो रहे।"), Humiliation ("एक दुकान ही खुलवा दो इसके लिए, बाप का नाम डुबोएगा।" "बड़े बड़े सपने मत देख, वो सब extraordinary बच्चों के लिए होता है।"), relatives & neighbours suggesting disciplinary measures to my parents ("Boarding में डाल दो इसको, ठीक हो जाएगा।").
All of this resulted in self-doubt, hatred towards studies, hatred for books & people, seclusion, and mental & emotional trauma. Despite this, I made the best possible efforts and was able to see a gradual improvement in my performance too, but the most important factor I lacked was a basic understanding of the subject, which I could not get in the class as the weakest sheep always gets left behind.
All I needed was some time and focused attention to at least become capable of understanding things. Quite surprisingly right from the next standard, with the help of a few good teachers, I started making progress, only to know that I had a natural understanding of mathematics. Yes! I jumped from being absolutely dumb to very comfortable in Mathematics in just 2 years. It was just that I was like a cart being dragged even before putting wheels on it.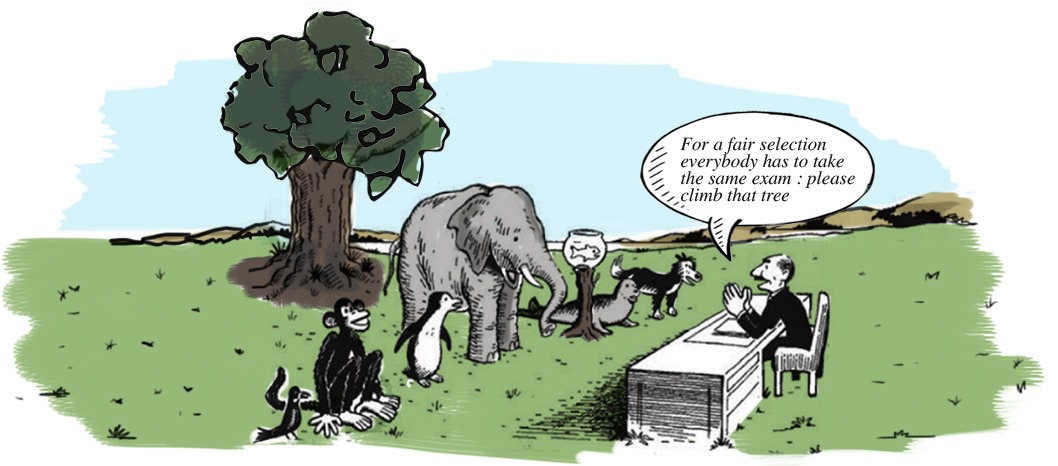 Its like making a fish, bird, monkey, dog, and tortoise to compete in the same race, which, by the way, none of them wanted or was designed to.
[This also highlights one of the disgusting facts of our education system and society: Get early and the same fruits from each type of tree even from the ones that don't bear fruits and if they don't, overload them with water, fertilizers, or whatever it takes]
Think, Just think for a moment: a fish trying to compete with a bird, elephant, monkey, and other animals and in its attempt to win the competition or just to be eligible for the competition, taking sessions, lectures, training, even steroids and quitting to swim, just to rise in the eyes of someone who can't even see or swim underwater.
Every living being has been blessed with different abilities, talents, and capabilities, you cannot expect everyone to compete through the same race!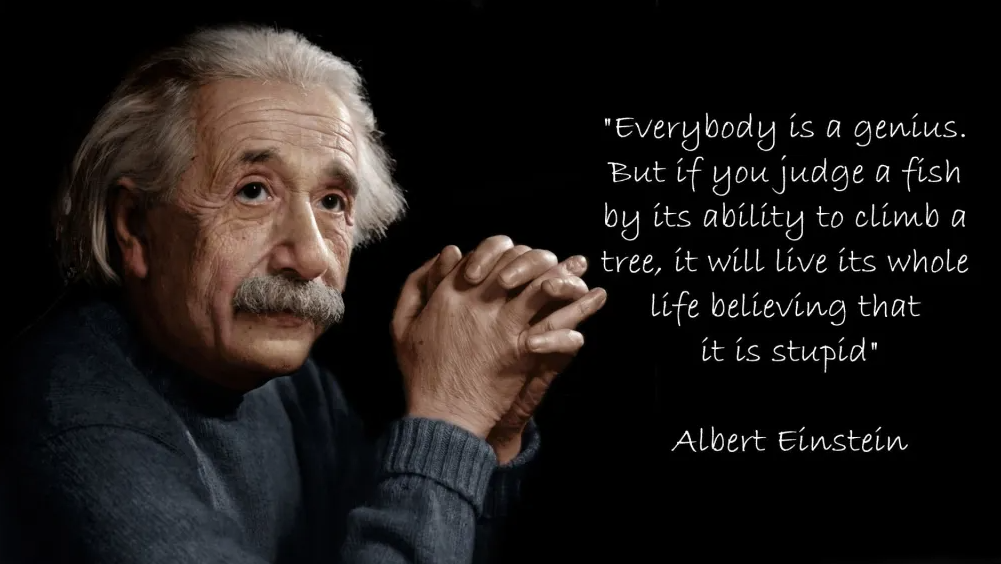 Coming back to my Academics
With time and the help of good teachers, I made progress from 32% in the 8th standard (20 – 30 in Maths) to 77% in the 10th standard (Maths - 81, Social science - 83). Despite my keen interest in physics and mathematics, I failed miserably in IIT and AIEEE exams as I couldn't score up to the competition level. I couldn't compete!
Grasping at straws, I admitted myself into a regional engineering college. I didn't like the syllabus there, so changed the college thinking that might help, of course, it didn't! Eventually, I ended up with 9 backlogs but managed to clear all of them in the first attempt and received my degree on time.
One good thing I did during my college time was that I read novels.(Keep this in mind, I'll discuss it later)
There was no campus placement at my college, however, I managed to get an average off-campus placement (1.4 lacs p.a.), but the glitterous and overly-competitive work culture there didn't favor me. Also, I couldn't see anything worth working for, including the designation, promotion, infrastructure, and future growth. Due to these reasons and owing to some of my health issues, within 6 months I decided to quit that job and started preparing for competitive examinations: Banking and mainly SSC. From this background, one thing was clear to me that I had an interest in subjects but never in competition, I guess I was not a competition or race material.
Initially, I was clueless about SSC or banking preparation, so I approached my friends who were already preparing for competitive examinations and discussed the preparation strategy for these exams with them. Then, I went through the previous year's papers to understand the examination pattern. I gradually figured out that I could crack SSC CGL as the syllabus as well as the pattern of this exam was in my favour and the theoretical part (current affairs, general awareness, theoretical subjects) was quite limited.
I started preparing specifically for SSC CGL and took some other exams as well to keep preparation at a better pace. I studied at home, referred to limited study material and resources, and consistently took mock tests. I could see my progress, but that was not enough to fight the fierce competition, and as I said I wasn't a competition material. As time went by, my progress slowed down and my efforts seemed to be inadequate, both in intensity and quantity.

The Real Testing Phase: Stagnation
This is the most difficult part of a preparation journey where efforts and results are not proportional. When an increase in effort, material, or study hours has almost no impact on the outcome. The relationship between work and result is not linear from here. This phase can be called "Stagnation", where progress is very slow and this is the real test of your patience. Try understanding with the help of this graph: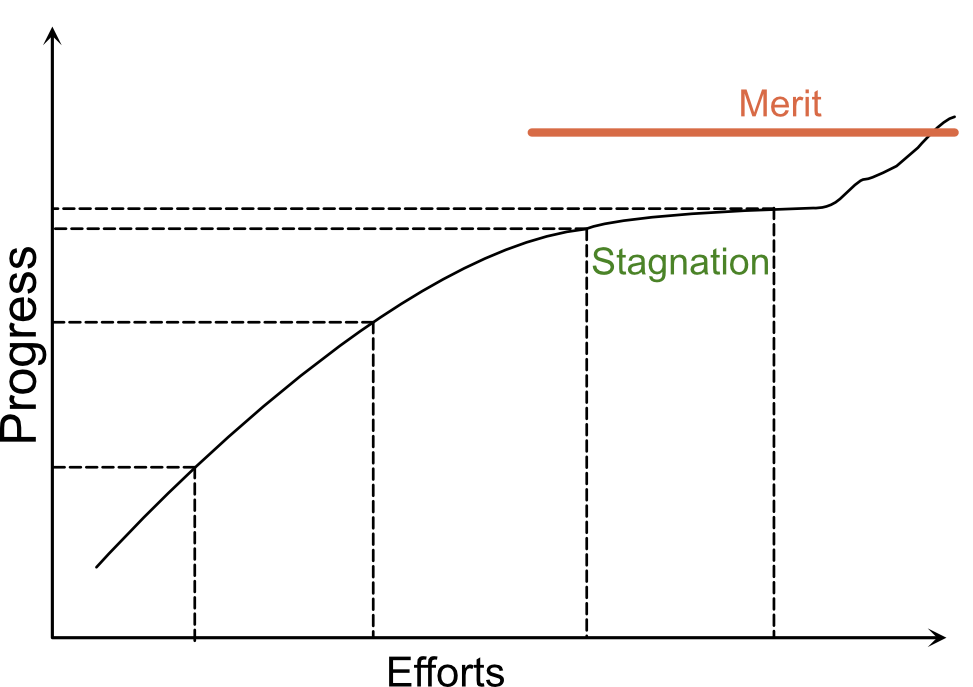 How did I Overcome this Phase
Crossing this phase demands an alteration in approach. You need to build a practical approach and put in a concentrated amount of effort to achieve better results. First, you need to unlearn, you have to let go of the thinking that you understand and know enough. I delved deep into the concepts and root problems. I worked on small mistakes, conceptual betterment, speed, efficient solutions, accuracy, natural pace in exams, time allocation, question selection, and better reading and comprehension.
After consistent efforts, I strarted seeing a slow but significant change in my results. I felt contented and was pretty sure that I stand in the merit, even before taking the exam.
One important point I wrote above was about reading books, this is what I would say the best thing I did in my life. Books opened up my imagination and made me capable of understanding and expressing myself in words that I was not capable of doing before. It evolved my critical and creative thinking skills. I was able to think outside the box. If I had to pick one thing from knowledge and imagination, I would blindly pick imagination.

My Day – 15/11/2019
On 15 Nov 2019, the final result was declared and I cleared SSC CGL 2017 with AIR 1903 and was allotted the post of Excise Inspector (Chennai zone). My family was delighted and I was quite satisfied (to see them happy).
That day I realized life changes, and so do people and their opinions about us! The same people who taunted me and my parents for my miserable performance in academics now visited us with their prophecies ("हमें पता था, देख के ही लगता था बहुत sincere है।" "पढ़ता रहता था ना, selection तो होना ही था, ऐसे ही बच्चों का होता है।"), taunts and comparisons for my younger siblings ("देख, सीख भैया से, कितनी बढ़िया नौकरी पर है, ये हमारा लड़का नालायक, इसको भी कुछ सिखा दो।") praise ("दिमाग तेज है, बहुत intelligent है।" "गज़ब काम किए हो, पूरे गांव में वाह वाही हो गई है, पूरी कॉलोनी में चर्चे हैं।") and much more ("अब हम कहीं भी जाएं, चार लोग पूछते हैं, बहुत proud feel होता है, हमारा यही अरमान था, तूने पूरा कर दिया।").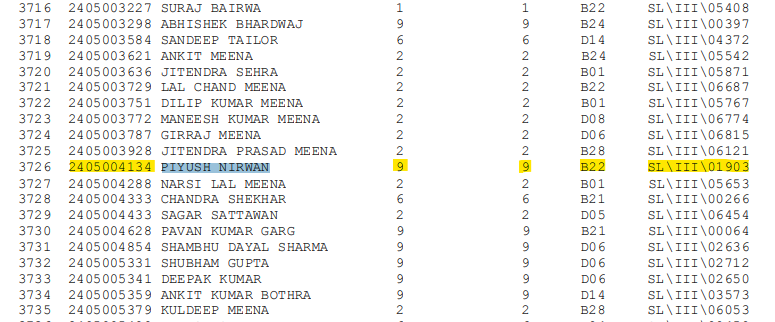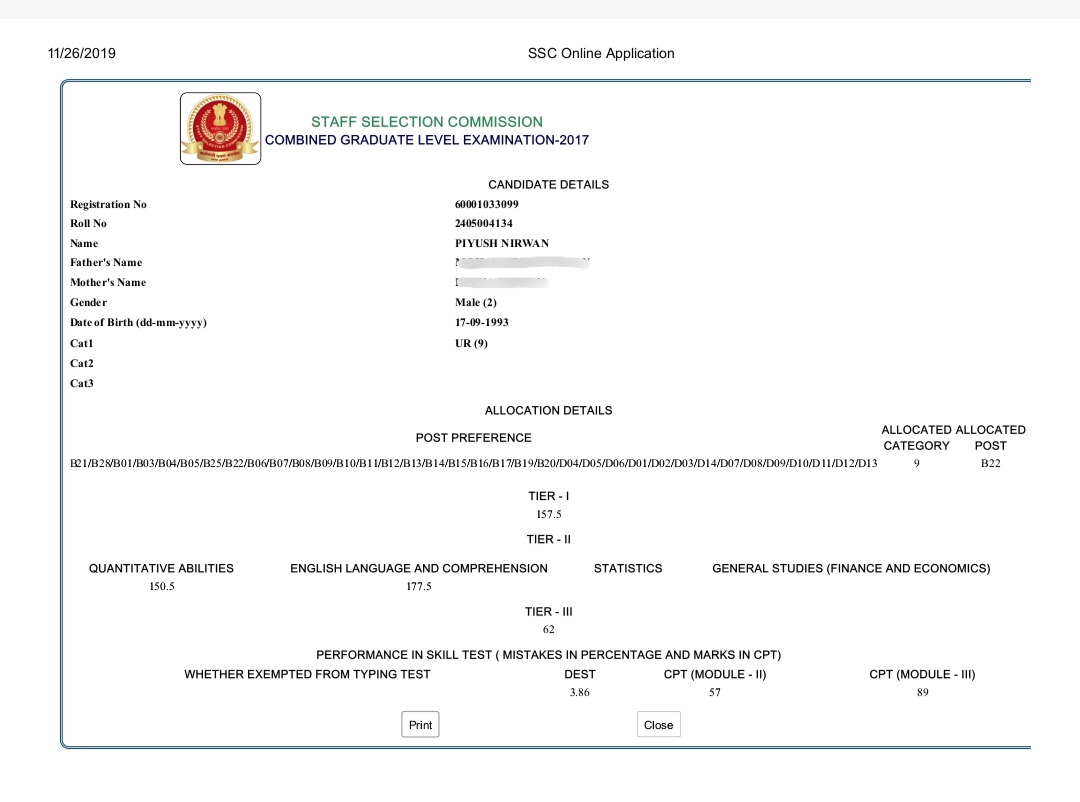 The result of the above CGL 2017 was awaited and therefore I had to sit for CGL 2018. Later I cleared CGL 2018 with AIR 421 (Excise inspector, Vadodara zone). As common in most middle-class families, my relatives, friends, and neighbours all glorified my parents that they must be proud of their son, which they were ("इनका लड़का बहुत intelligent है, Officer है, मां बाप का सर ऊंचा कर दिया।") and this made me happier, for at last doing something for them.
Even if I had failed, I would have done something else, maybe even much much better. Might not have gained all this respect and praise from society, but I didn't care about it anyway!

The key takeaway from my story
If you work hard, your efforts are definitely going to pay off in one way or the other. It will all be worth it in the end. You may not experience the rewards right away but in the end, you will surely enjoy the fruits of your labor. So, the next time you encounter some challenges, don't get discouraged. Remember, when the going gets tough, the tough get going!
Whatever you do in your life, do it well with all your heart and soul. Devote yourself completely to anything that matters to you. If you find any such thing (no matter what) please go pursue it!
---
Latest Posts
---