Hello Aspirants!
LIC has finally released the most awaited
LIC AAO 2023
Notification on 15th January 2023 for Assistant Administrative Officer posts. This year you have a golden opportunity to get placed in the largest life insurance company in the country, as well as one of the fastest-growing insurance sectors as a total of
300 vacancies
have been announced by the corporation for the post of Assistant Administrative Officer. The selection of the candidates will be based on a three-tiered process consisting of LIC AAO preliminary and mains exam followed by an interview.
We hope you are well aware of the fact that cracking such a prestigious government exam is no piece of cake until you are well-prepared to perform to the best of your abilities. In this article, we at Smartkeeda will discuss those important 5 steps that will help you crack LIC AAO 2023 exam. So buckle up guys! You know it's going to be a tremendous amount of work, but be ready to embrace it. After all the best view comes after the hardest climb!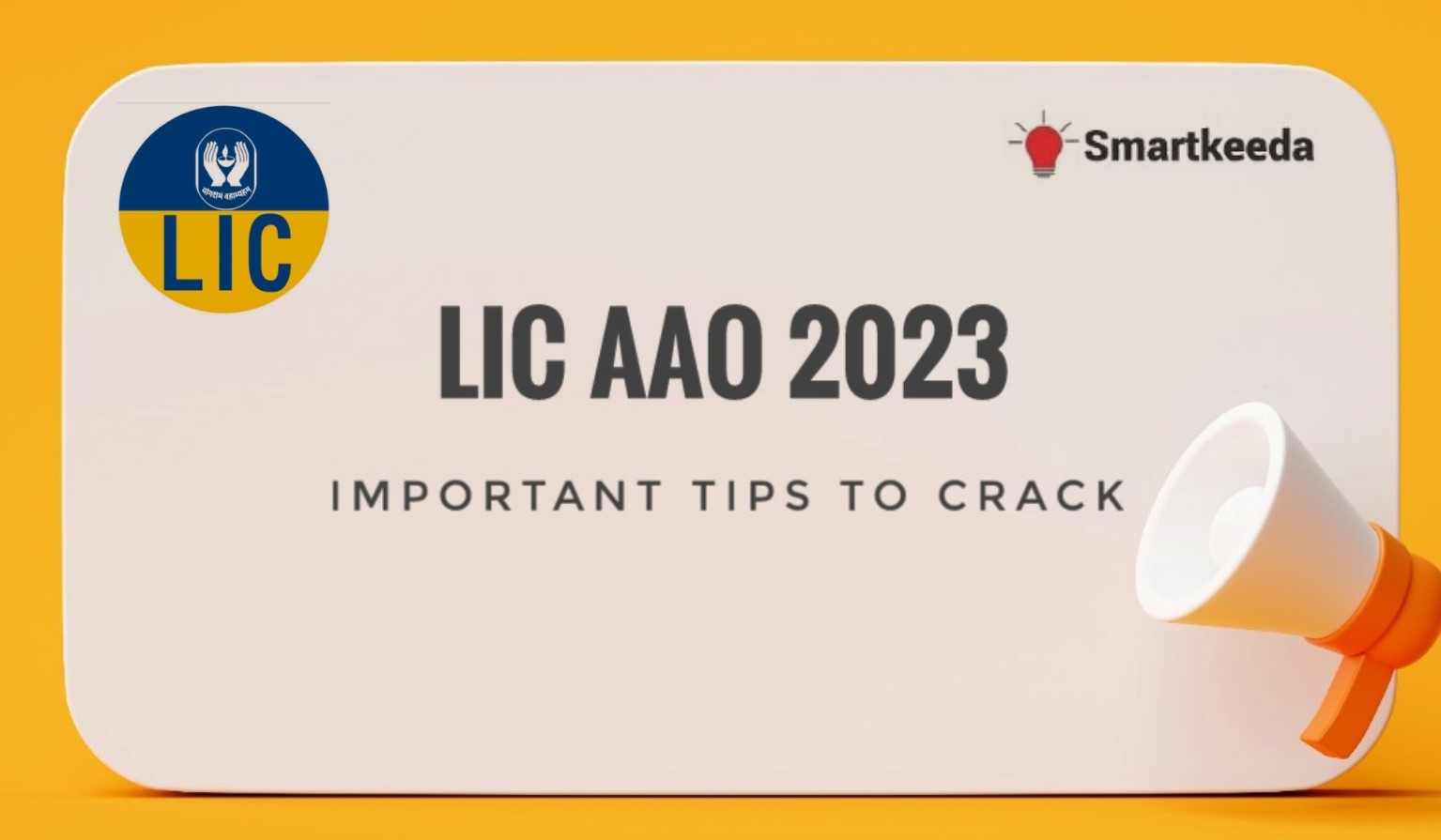 See, we have less than 1 month for LIC AAO 2023 and we need to cover three sections quantitative aptitude, Reasoning, and English. If you've been going to class and if you've been keeping on top of things this really doesn't take very long at all. Preparing for LIC AAO 2023 should, ideally, be a giant review session, not a time when you actually learn anything for the first time. Of course, that's never actually the case but as close as you can get is great.
As you all know the cut-off for LIC AAO 2023 prelims has already been decided. Unreserved category students have to score 18 in the Quantitative Aptitude & Reasoning Section and 10 marks in English. However, the English Language section of LIC AAO 2023 prelims will be of qualifying nature and the marks in the English Language will not be counted for ranking. So, here is a huge advantage for the candidates who are not very good at English. But, you will have to practice hard to score well in the Quantitative Aptitude and Reasoning Ability section to qualify for the mains.
So, the key to all of the preparation, though, is understanding how to approach this exam. Once you know that, the rest of it doesn't seem nearly as terrifying. Smartkeeda always tries to provide our students with quality content at the least possible price so that the students do not feel study, a financial burden. We at Smartkeeda constantly spend hours to save you seconds in your exams.
Click here
to download LIC AAO 2023 official notification pdf
Let us go through the
important tips to crack LIC AAO 2023
1. Understand the Examination Pattern
Comprehension of the
examination pattern
is the first and foremost step in the preparation. It is very important to thoroughly understand and become familiar with the latest examination pattern to design an effective plan of action to prepare for the examination.
So, Before diving into the important
tips to crack
LIC AAO 2023
, let us have a quick glance over the examination pattern of LIC AAO 2023. Selection of Assistant Administrative Officers in LIC will be done through a three-tiered process and subsequent Pre-recruitment Medical examination.
Online Preliminary Exam
Online Main Exam
Interview
Stage I: Online Preliminary Exam
A preliminary Examination consisting of an objective test will be conducted online. The test will have three sections (with separate timings for each section) as follows:.
S.No.
Name of test
No. of questions
Maximum marks
Minimum Qualifying marks
Duration
SC/ST/PwBD
Others
1.
English Language
30
30**
9
10
20 minutes
2.
Quantitative Aptitude
35
35
16
18
20 minutes
3.
Reasoning Ability
35
35
16
18
20 minutes
Total
100
70**
60 minutes
** English Language test will be of qualifying nature and the marks in the English Language will not be counted for ranking.
Stage II: Online Main Exam
S. No
Name of test
No of questions
Maximum Marks
Maximum Qualifying marks
Duration
SC/ST/PwBD
Others
1.
Reasoning Ability
30
90
40
45
40 minutes
2.
General knowledge and current affairs
30
60
27
30
20 minutes
3.
Data Analysis and Interpretation
30
90
40
45
40 minutes
4.
Insurance and Financial Market Awareness
30
60
27
30
20 minutes
Total
120
300
2 Hours
English Language (Letter Writing & Essay)
2

25**
9
10
30 minutes
**Kindly note that the descriptive test will be of qualifying nature and the marks will not be counted for ranking. Also, the Descriptive paper of only those candidates will be evaluated who qualify in the objective part of the main Examination.
Marks obtained in the Main Examination only will be considered for shortlisting for interview and marks obtained in Main Examination + marks obtained in the Interview will be considered for the final merit listing of candidates.
2. Attempt a Mock Test of LIC AAO 2023
To set the stage for victory, you need to manage both your resources and your time wisely. We recommend you attempt the LIC AAO mock test that is based on the latest pattern and follows all the guidelines prescribed by the Life Insurance Corporation in its official notification.
LIC AAO 2023 mock tests are meticulously designed by content experts at Smartkeeda to give a reality check of your preparation and share a clear idea of where you stand among your competitors. The
LIC AAO 2023 mock tests series
would help you keep a track of your spent time on each question in each section and give you a clear idea of the topics that consumed most of your time. This will allow you to discover better techniques to solve those questions in the given time and manage your time better. While looking deep into your time management part, you should be able to answer the following questions:
Which questions aren't worth spending time on?
What type of questions should be approached first to save time?
Which questions should be tried later?
How much time should be allotted to various types of questions?
An answer to the above questions will help you develop an
effective strategy to manage your time
and maximize your attempts in
LIC AAO 2023
exam. You can attempt a free new pattern mock test of LIC AAO 2023 link is below.
Click here
to attempt a free LIC AAO 2023 mock test
3. Compare yourself with Topper
Yes! Exactly Comparison, It's a very negative word these days, you have heard from a lot of people that don't compare yourself with others but if you are in the competition fields you will have to compare otherwise you can't figure out how much competition is in the market. The
LIC AAO 2023 test series
at Smartkeeda would help you understand the
strategy followed by the topper
to become one.
You should dive into the following areas after attempting a LIC AAO mock test to understand the approach followed by him/her:
How many questions were correctly attempted by the topper?
What type of questions were skipped by the topper?
How much time was spent by the topper on the difficult questions?
What was the accuracy of the topper in each section?
How did the topper manage his time in each section to maximize his attempts?
An answer to the above question will help you
understand the loopholes
in your preparation. An effort to imitate the topper's strategy for LIC AAO 2023 exam would help you build an effective roadmap to success.
4. Make a list of important things you need to get done
Yes, absolutely right! Only important things. We don't have enough time to practice each and everything. Go through LIC AAO 2023 syllabus and make a list of those topics where you are good at and set the priority according to the preparation or your mock test result.
Once you make that list, make a folder on your computer and just bring everything you need into that folder.
This would help you because it would put your mind at ease. If you have a list of everything which you need to get done, you can rest easy knowing exactly what is important for you. This helps lower your exam-related anxiety while studying and also during the test. If you know that all the material was on that list and that you can give competition to other aspirants, you have to stick to those topics and practice as hard as you can.
5. Cut your preparation into parts
To tackle the big goal of the full-length test while you're preparing for LIC AAO 2023, I would highly recommend you to cut your preparation into parts, do not try to cover all the topics together and take a full-length mock test.
First, you need to take quizzes regarding your section or topics. Quizzes are small goals, and they can make you feel positive which through you can cover big goals in small steps.
Next, attempt the Full-length assessment for LIC AAO 2023 and analyze it. After analyzing the complete test, flag your weak spots and the topics where you need to put more effort to maximize your score from the 'Topic Strength' section.
Further, move on to the Topic tests and practice & strengthen the topics where your topic strength is Average-Poor
At Smartkeeda you regularly get new pattern-based questions and section-wise quizzes on Quantitative Aptitude, Reasoning, and English. Here is the link for the new pattern-based questions for LIC AAO 2023. Here, I am providing you with the links to section-wise tests & topic-wise tests that would help you make your preparation easier.
For Full-length tests
Click Here
For Section-Wise Tests
Click Here
For Topic-wise Tests
Click Here
6. Repeat It
We have already discussed the 5 crucial steps for your LIC AAO 2023 preparation. Now it's time to repeat them again and again until you touch the topper in your mock tests. You must have heard of the saying "
Genius is one percent inspiration and ninety-nine percent perspiration
". It simply means that when you achieve great things in life, it's your hard-work or grit that makes it possible and not your luck. It is indeed true as far as competitive exam preparation is concerned. It's more of your practice that gives you an edge over others.
Here we would also like to share some useful links that will help you in LIC AAO 2023 preparation.
I hope this helps you feel ready for your LIC AAO 2023 these next few weeks! Remember: you can do this! It's all about being prepared and working hard, and as long as you've got those two, you'll be golden.
Thanks & Regards
(Team Smartkeeda)
---
Latest Posts
---