A banking career is one of the most prestigious careers that any aspirant can dream of. Owing to the lucrative salaries and perks they offer; banking exams and jobs are quite popular among fresh graduates. With the advancement in technology, the job market has become highly competitive. Lakhs of students apply for a few thousand vacancies. In this particular scenario, one needs to be among the top performers to get placed in a good public sector bank.

As the aspirants begin preparing for the banking exams, they have a big question in their mind, "Which mobile app is the best to prepare for banking exams?" or "Which is the best app to crack banking exams on the first attempt?" Honestly, there are hundreds of mobile applications available on the play store dedicated to Banking exam preparation that are absolutely free and just a click away from download. However, selecting a single right application to strengthen concepts, track progress, and evaluate and grow competitive skills can be a daunting task for many aspirants.

So if you are a banking exam aspirant and looking for the finest application to efficiently prepare for your banking exam, you are at the right place. In this article, we are going to discuss the most promising features offered by
Smartkeeda, India's leading test preparation platform,
designed for major competitive exams, that make it the
best app for your banking exam preparation.
The following are the key features of the
Smartkeeda App: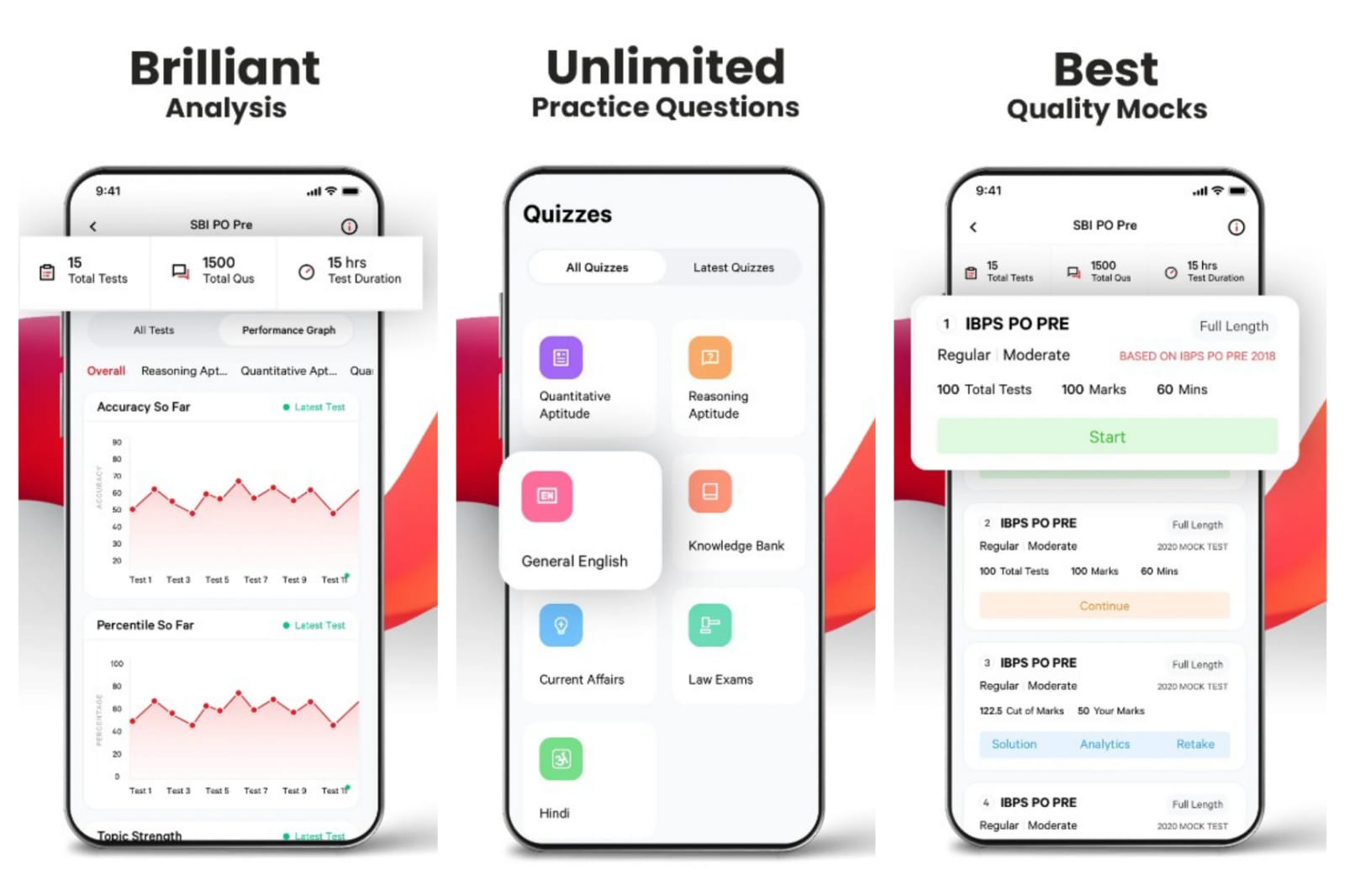 1. Unique User-friendly Interface
The user-friendly interface of the Smartkeeda App ensures that the elements are easy to access, understand, and use, fulfilling your banking exam preparation needs in a faster and more efficient way. The app asks you to choose between the two test modes before beginning any test:
Normal mode: This mode completely mimics the actual banking examination interface and has been designed to help you spot your position and level of preparedness among thousands of aspirants with the intelligently designed test interface.
Suggestion mode: This mode suggests the easy questions that you should attempt first to save an ample amount of time for the tricky questions and build enough confidence to attempt the rest of the paper. This helps you build a strategy to maximize your scores.
2. Smart-Analytics
Once you attempt a mock test, analyzing your performance should be the immediate step. A precise analysis of your performance in the mock will help you gauge the level of your banking exam preparation. To give you a clear idea of your level of preparedness, the analysis section of the test series has been meticulously designed by a dedicated team of experts to help the students judge their potential and work on it before the actual exam.
The "
Smart Analytics
" tab in the solution part of the mock test gives you a detailed overall, topic-wise, and section-wise analysis of your performance in terms of
speed, accuracy, time spent, and question preference.
It also displays a question-wise breakdown of your performance determining your strengths and weaknesses that will help you to determine the major loopholes in your test preparation.
3. Performance Graphs
Graphic visual representation of information is a crucial component in understanding and identifying patterns and trends throughout your performance. Therefore, the Smartkeeda app prepares a personalized performance graph after each mock test to help you analyze your performance in well-structured formats, making it easier to interpret it.

Accuracy so far: Accuracy displays the percentage of correct questions attempted by you to the total number of questions attempted. Smartkeeda accuracy graph checks and records your overall and topic-wise accuracy throughout your tests to help you understand the areas where you make the most incorrect attempts and often lose your score.
Percentile so far: It provides a graphical representation of your score in comparison to other test takers. If you are a 92 percentile person, it means you scored more than 95% of the candidates who took the same test. Smartkeeda keeps a track of your percentile so far and displays it in a graphical form to demonstrate your progress.
Topic strength: It collects and displays the data based on your performance in each topic of each section (English, Quant, GA, Reasoning) of the mock to give you an idea of your strengths and the required push to work on your weaknesses.
4. Comparative Analysis
Comparison can be harnessed into a great tool to boost your performance. Through positive comparisons, you discover the possibilities that you didn't even realize could be true and work on them to perform even better. When you compare your test performance with the test topper, his/her efforts and achievements will encourage you to work on your weaknesses and perform to the best of your ability. Smartkeeda provides different types of comparative analysis
• Comparison with the Test Topper:
The "
Comparison Tab
" available in the analytics section of the Smartkeeda mock test displays the time spent by the topper on difficult questions, his accuracy, and the type of questions skipped by him to boost his score. In this way, Testzone helps you can understand the approach used by the topper in the mock test to hit the nail right on the head.
While you compare your performance to the topper's, you should try to answer the following questions:
What was the topper's strategy to attempt 35 questions in reasoning within 20 minutes?
Which questions did the topper skip to maximize his attempts?
Which questions were approached by the topper in the first quarter?
How much time was spent by the topper on the puzzles?
How much more do I need to score to become the next topper?
Finding proper answers to these questions will help you strategize well and perform better in the upcoming tests.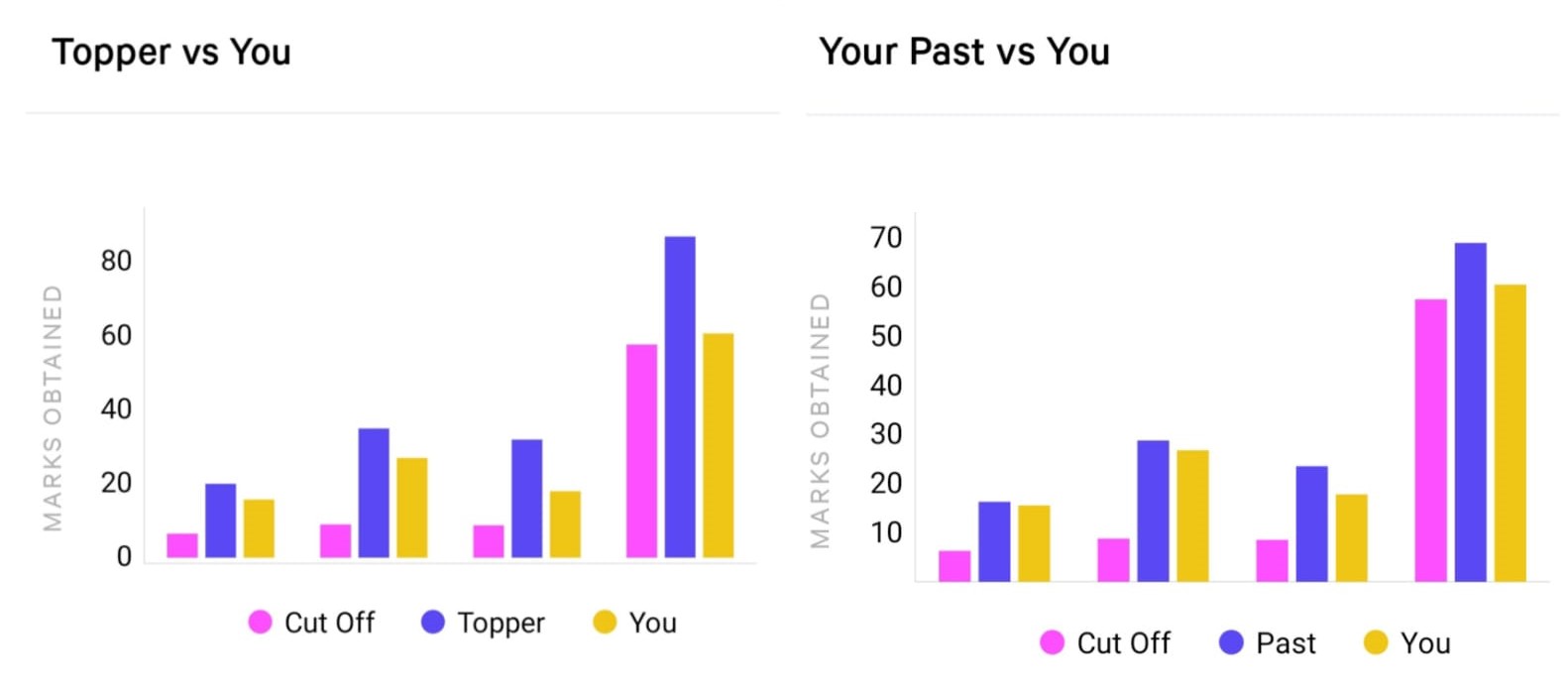 • Comparison with Your Past-Self:
The
"past vs you
" section of the comparative analysis monitors your performance and gives you a clear idea of how better are you at challenging yourself during your exam preparation. Such a comparison of your current self with your former self will help you understand your progress.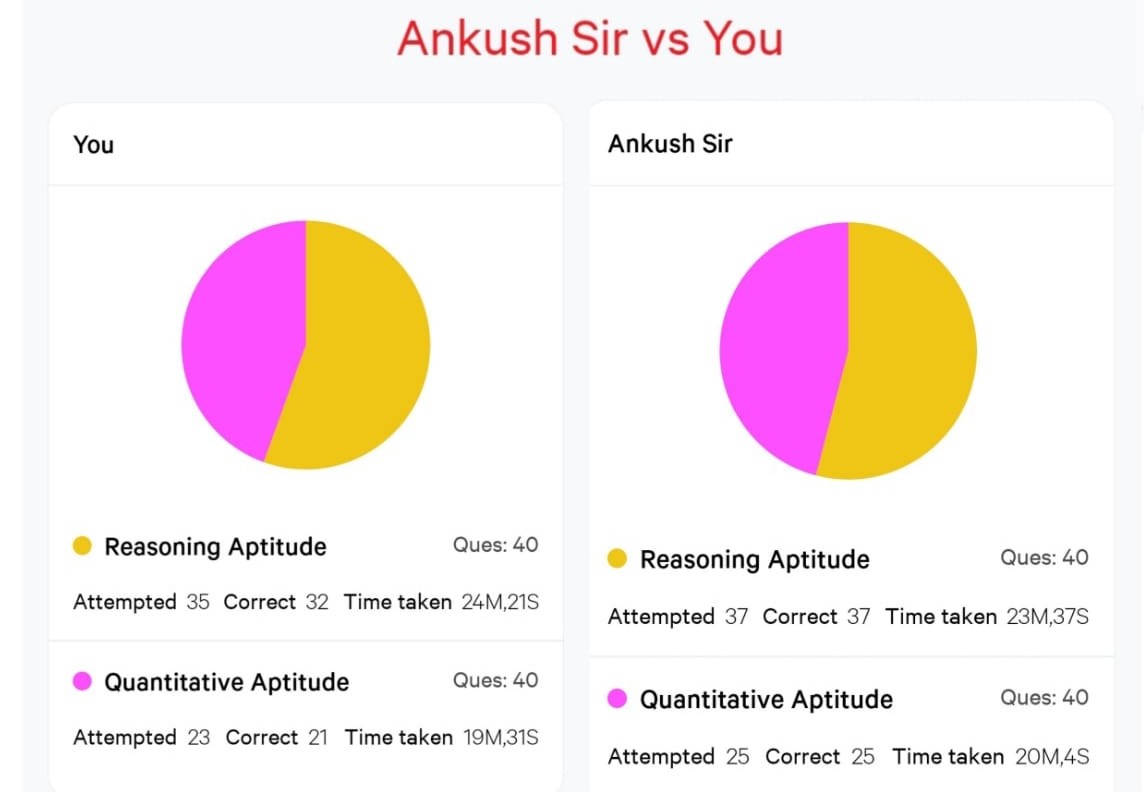 • Comparison with the Top Educators
At Smartkeeda, you get an exclusive opportunity to compare your performance with the top educators. Such a comparison of your performance with the best in the field will help you understand their approach to the test series and acquire the best out of it for better performance.
Using this feature you can view the complete analytics (rank, percentile, accuracy, time distribution, speed) of the educator who attempted the same test. This feature will help you to mimic the strategy of the top educators to excel in the test.
• Comparison with a Friend
You can compare your result with your friend using his email address and understand his approach to the questions. While doing so you will soon start noticing a variety of different techniques to attempt the same mock test that can help you to perform even better. You might notice or question:
How did your friend attempt that seating arrangement within 2 minutes?
How was able to achieve 100% accuracy in the English Language section?
Why was he able to maximize his attempt in the Quant section?
How did he approach the quadratic questions to solve them in the minimum time?
Such a comparison of your performance with your friends will provide you with an opportunity to observe a wide variety of techniques to approach the mock test, After considering the pros and cons of each technique, you can improve your performance by incorporating the best methods with your own.
5. Time Allocation Graphs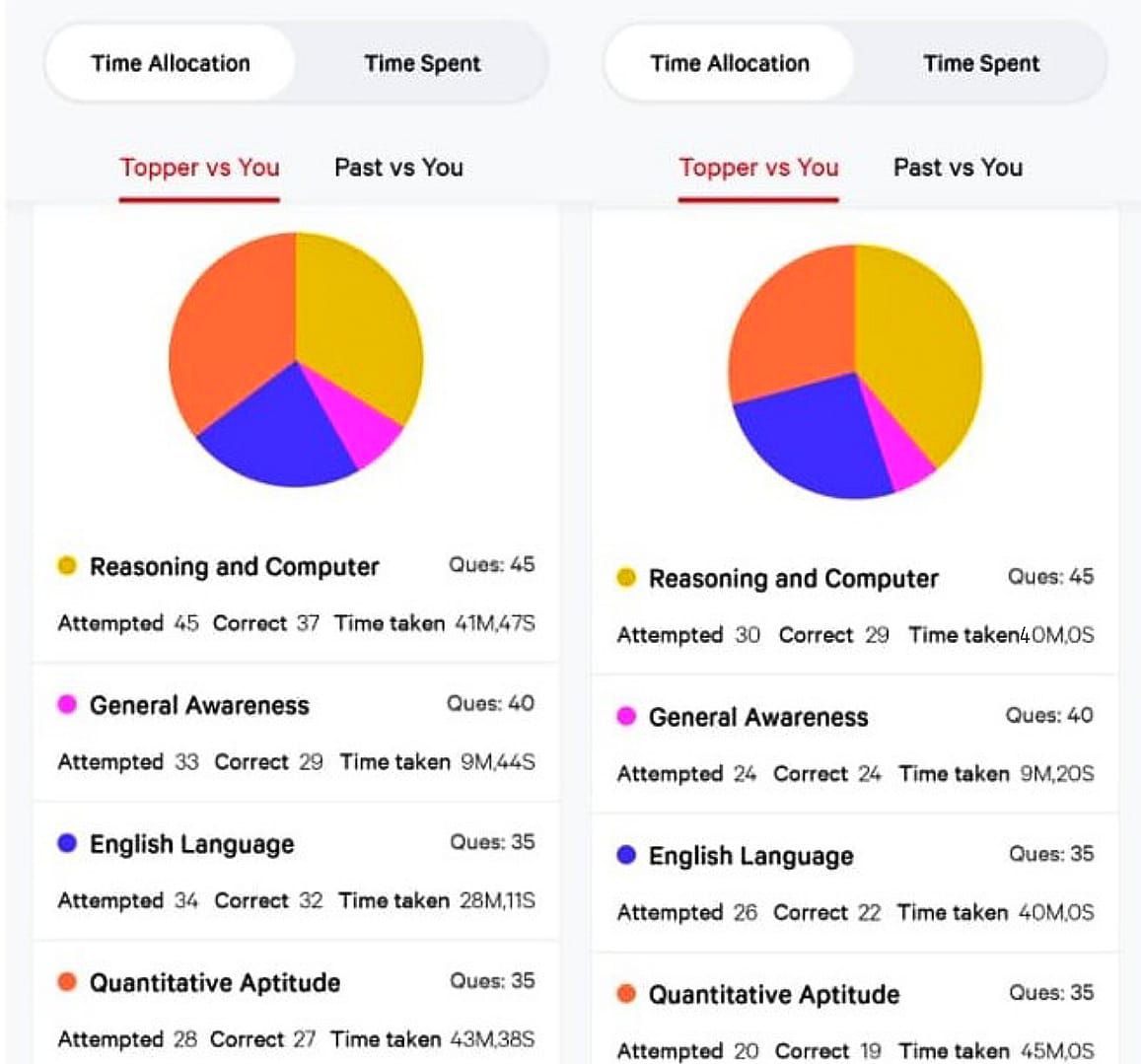 You cannot trivialize the importance of each second during your banking exams
.
In prelims, you're given
100 questions
to answer within
60 minutes
with a time limit of 20 minutes in each section
.
Therefore, the biggest hurdle that banking aspirants face is time management. Without giving a proper focus on mocks and their analysis, you cannot decide the precise amount of time you should spend on the different types of questions.
Smartkeeda gives you a helping hand in crossing this hurdle by keeping a track of the time you spent on each question in each section. The application also compares your allocated time to the topper's to give you a rough idea of the ideal time that should be given to tricky as well as easy questions.
6. Reattempt Mode
Mistakes happen! We all make them, it is part of what makes us human. None of us is immune to making mistakes. How you react and respond to them and how willing you are to learn from them defines your future.
After attempting the mock test, you should analyze your mistakes honestly and objectively. While doing so, you should ask yourself the following questions:
What was I trying to do while solving this question?
What was wrong with my method?
Where did it go wrong?
Why did it go wrong?
Conducting such a post-mortem of your mistake will reveal the root cause of it and therefore you can devise methods to avoid it in the future. You can identify the skills, knowledge, resources, or tools that will keep you from repeating those mistakes.
The
"Reattempt Mode"
of Smartkeeda gives you a second chance to attempt the same mock and allows you to apply better techniques you've learned during your analysis session. You can see a visible difference in your speed and accuracy by applying the better techniques you devised. It also compares your "Reattempt result" to your "previous result" to help you understand the improvement in your performance. Smartkeeda provides you with two types of reattempt modes:
Full-length Re-attempt mode: In this mode, you can re-attempt the complete test in a go just like a fresh test. You can evaluate your performance by comparing it with your previous performance. This will motivate you to approach the test in a better way to boost your score.
Partial Re-attempt mode: This mode gives you another chance to attempt the question that you either skipped or attempted incorrectly on your first attempt.
7. Doubt-Asking Feature
It is typical to encounter doubts while taking mocks. Therefore, a
well-organized doubt-asking feature
is a crucial part of any mock test series. If you get stuck with any question or explanation, you should instantly be able to raise doubt and get an answer to your problem as soon as possible.
The
"Doubt"
tab available at the top right corner of each question allows you to raise a query and get it answered by our subject experts. You can send your doubt or raise an objection by clicking on this tab and our experts will get back to you within 24 hours with a proper solution to your query.
Conclusion
The best part of preparing through mobile applications is that you can access your study material beyond the boundaries of time and space. You do not have to carry heavy printed material everywhere. Also, these applications are available to you round the clock, therefore you do not need to worry about the schedules.
Now that we have discussed the features of the best mobile app for your banking preparation, we hope you prepare for your upcoming banking exams with full enthusiasm and ace them with flying colours. Here is a
detailed guide
to help you prepare for your upcoming banking examinations.
Wishing you all the luck with your preparations.
Click here
to download the Smartkeeda App now!
Thanks & Regards
(Team Smartkeeda)
---
Latest Posts
---