Common University Entrance Test (CUET) earlier known as Central Universities Common Entrance Test (CUCET) is an all-India examination conducted by the National Testing Agency (NTA) for students seeking admissions to Under-Graduate Programmes in Central Universities for the upcoming Academic Session.

Earlier, the universities either relied on the class 12th marks or conducted their own exams for admission. The process was quite hectic for the students. Therefore, to simplify the admission process, the Education Ministry has assigned NTA to manage CUET, thereby making the admission process more streamlined, and student-friendly.

In this article, we are going to discuss the best institute for the preparation of CUET Exams in Agra and how the top features offered by this institute will help you in getting an edge over other aspirants in your upcoming CUET exam.
Role of a Coaching Institute in the Preparation of CUET Exams
We hope you understand the importance of proper guidance in an era of cut-throat competition where everyone wants to perform exceptionally well and achieve in the field of their choice. Despite their best efforts, students sometimes need that extra push of encouragement to help them thrive. A coaching institute plays a vital role in shaping a student's career, by providing them with the required guidance and support they need during their preparation.
In Agra, Smartkeeda, the renowned test series platform for the preparation of all major competitive examinations, provides the best coaching for the preparation of CUET.
CUET institute by Smartkeeda
is a perfect blend of unbeatable guidance, experienced and highly-trained educators, exhaustive and well-updated study material, best-in-the-market learning techniques, and top-notch test series, everything within your reach, with a nominal fee structure. The diligent and supportive staff here is always ready to cover the extra mile to help students realize their potential and work their socks off to get admission to their dream college.
At Smartkeeda, we do not put a 'full-stop' to our duties just by completing the syllabus, we provide the students with relevant exam-oriented suggestions, and notes and pinpoint the students' weaknesses. We guide the students in the right direction and make sure that they do not get misled.
Career Counselling Sessions at CUET Institute by Smartkeeda
As the students step into class 12
th
, they get flooded with queries from their relatives and friends about "
what next?
". What course they're going to opt for after 12th and what would be the college of their choice to pursue their higher education? Finally, they follow the age-old tradition of digging for the answers on the internet. In a world where we are constantly surrounded by so much information about careers, jobs, and courses, choosing the right course to pursue is the most daunting task for students. Well, we would recommend you stop right there before you blindly follow your friend's choice of course to determine your future.
Since the introduction of CUET, there are thousands of queries revolving around the concept of this exam, the process they're going to follow, and the eligibility criteria of different courses. During our counselling sessions, we try to answer certain types of queries of our students such as:
How do I choose the best college+course combination as per my qualifications?
I had PCM in class 12 but I am weak at chemistry, which college and course combination would be best for me?
My ultimate dream is to become a civil servant in the future, which course would be suitable for me?
For which courses am I eligible if I didn't study biology as a subject in class 12?
Am I eligible for B.com honors at Delhi university if I didn't study maths as a subject in class 12?
I am a science student, can I pursue graduation in the Arts stream?
What domain-specific syllabus do I need to cover to get admission to BSc chemistry?
I want to pursue a career in management, which course should I opt for?
I want to pursue B. A (Hons) in political science, which college would be best for me?
Our counselling experts identify students' personalities, strengths, skills, and talents and guide them in making informed academic and career decisions by providing the students with a closer insight into their area of interest and what course fits a student best.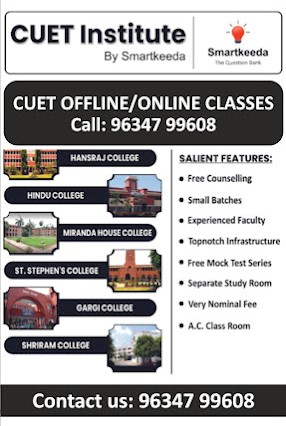 Top Features Offered by CUET Institute by Smartkeeda
In an era of digitalization where marketing tactics are strong enough to misguide students, selecting the right coaching institute might be a pain in the neck for both parents and students. To help you take the right decision, we are going to list a set of essential features to help you understand
how CUET institute by Smartkeeda helps the students open the door to success:
Free counselling sessions: At Smartkeeda, we not only help you prepare for the exam, but our guidance experts also assist you in discovering the right career path for yourself, with a clear action plan to achieve your goals. During our free counselling sessions, we familiarize you with your personal strengths, give you a closer insight into your area of interest, and help you make the right career decision before it's too late.
Free demo session: It is always better to attend a few demo lectures to experience the quality of education being provided before joining the institute. At Smartkeeda, students can attend a complimentary demo lecture and get a bird's eye view of the teaching methodologies of faculties and get in touch with the innovative and dynamic techniques used by them to make your learning sessions more interesting and engaging. The free demo session is your chance to feel the difference we make while we train and guide our students; like no one else does!
Top Faculties: Faculty members are the building blocks of a coaching institute. The performance of the students depends greatly on the skills of the teachers. A good teacher makes difficult things look easy. He/she has the capability of transforming a student entirely from a non-thinker to an intense thinker. Smartkeeda has a team of highly experienced faculty members ready to assist the students through their preparation so that they gain maximum knowledge about their courses and easily qualify for their desired colleges. We also conduct regular guidance sessions to help you to analyze your level of preparation.
Best Study Material: We understand how the right and effective study material saves you a lot of time and energy. Therefore, our subject matter experts ensure that students receive well-researched and updated study material for the CUET to clear the examination with flying colours. The study material provided by our institute is meticulously designed and extremely helpful. A variety of questions, ranging from simple to complex, in our question bank gears you up to handle the unexpected with logic and ease.
Perfect Batch size & Environment: Class environment and batch size play a major role in providing quality education to students. The location of our institute is away from the hassle of the city and the batch size is quite small to provide individual attention to each student be it weak or meritorious. We provide a perfect balance of hard work and smart work to monitor each student's progress and devise individual action plans to improve results and performance.
Free Test Series & Regular Assessment: During your preparation, you need someone to validate your knowledge. Regular assessment at Smartkeeda keeps a track of your progress, your strengths, and weaknesses and provides you with counseling or mentoring if required. CUET mock test series by Smartkeeda is a real-time simulation of the actual test. The test series offers a collection of updated questions based on the latest examination pattern of the CUET exam. Moreover, Smartkeeda offers 200+ topic-specific practice exams to assess students' progress. Our 10 years+ of legacy in test preparation will definitely help you get an edge over other aspirants.
Click here
to get the complete information regarding the Eligibility criteria, Paper pattern, Examination process, Syllabus, Universities, Results, and Strategy with a Detailed Time Table for CUET Exam.
Our Top Achievers
1. Prateek Verma (Business studies – 100th percentile, 200/200 marks)
CUET institute by Smartkeeda helped me a lot in my preparation. They helped me to master every chapter and section by conducting a topic-wise mock test at the end of each session. Mock analysis and report card provided at the end of each test assisted me to upgrade my performance and provided me with an in-depth analysis of the strong and weak areas. For those looking for the Best CUET coaching in Agra, your search ends here!!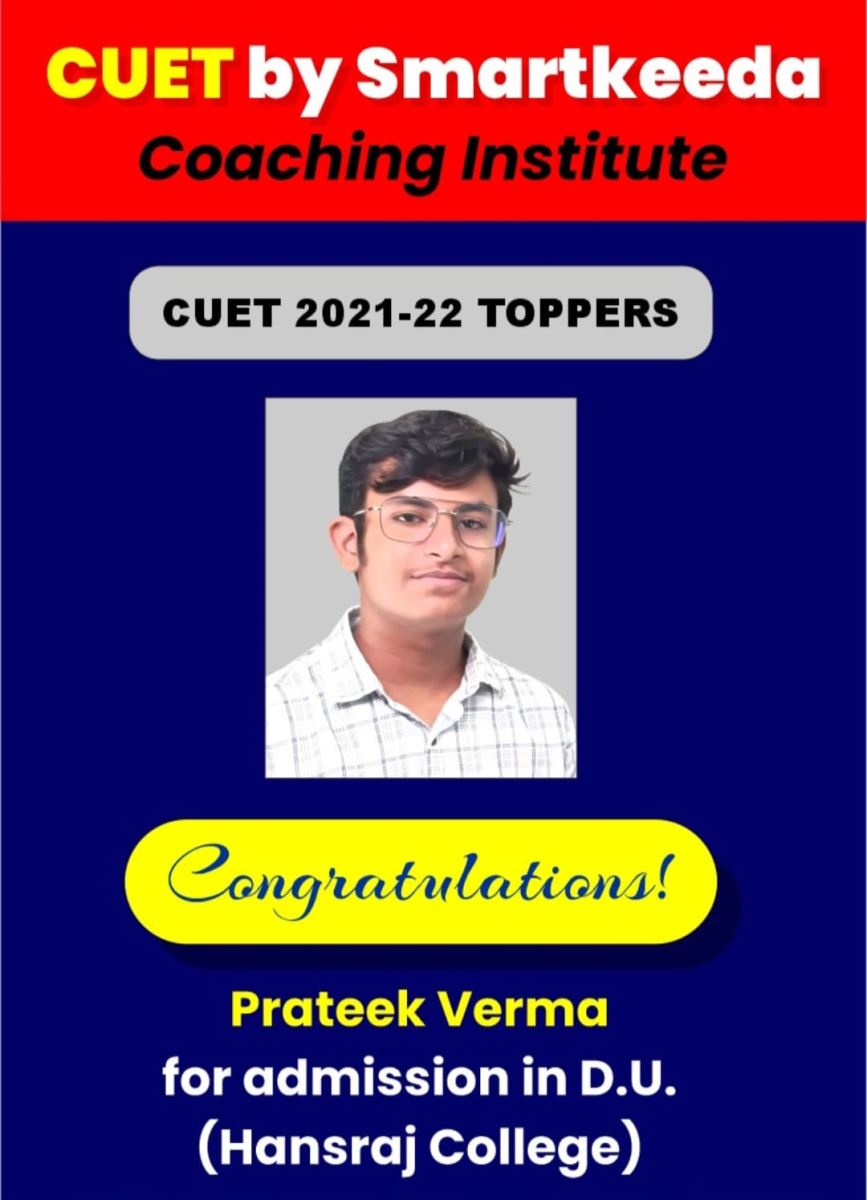 2. Harshit Dubey (Accountancy – 100th percentile, 200/200 marks)
My experience with CUET institute by Smartkeeda was quite amazing. At this institute, equal attention is given to each individual which is the best part of Smartkeeda. The whole team is very diligent and full of ENTHUSIASM. The most admirable part of team smartkeeda is that the tutors focus on CONCEPTUAL development rather than just completing the syllabus.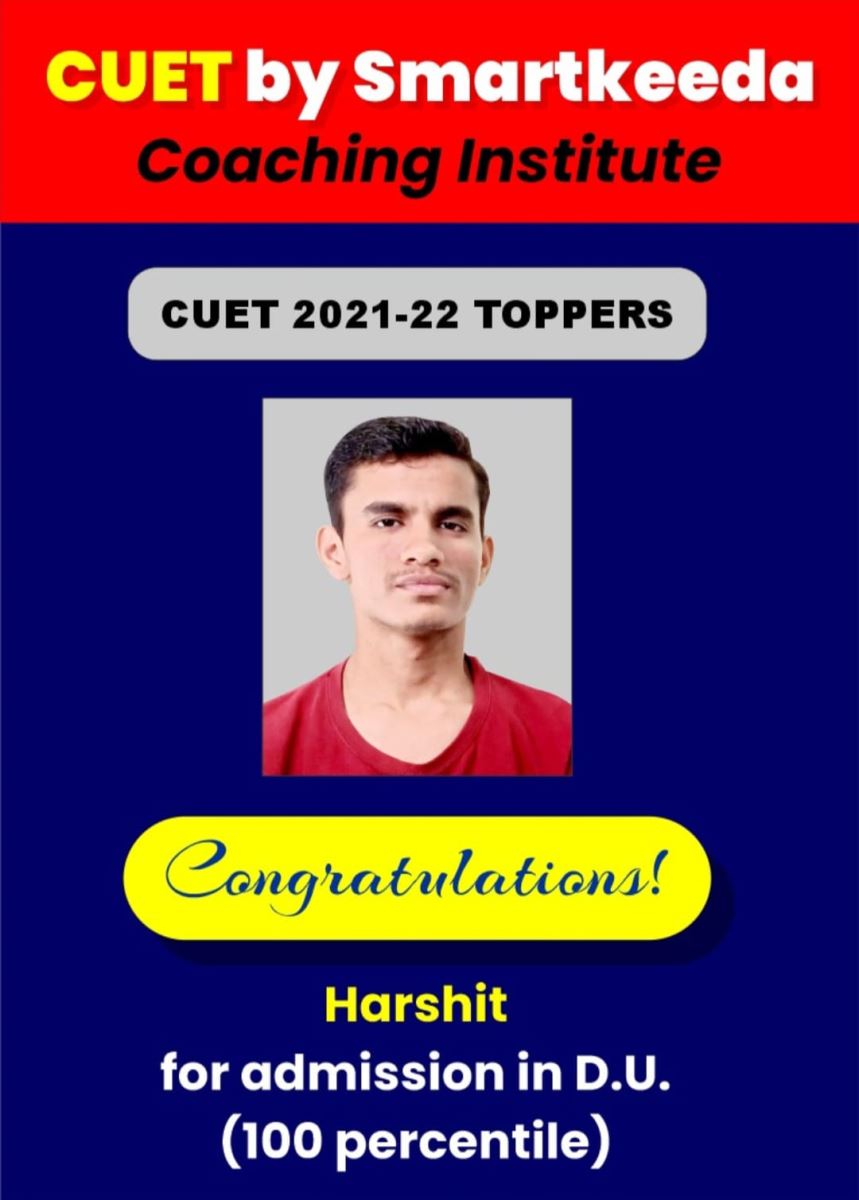 3. Shrishti Singh (Political science- 100th percentile, 200/200 marks)
CUET Institute by Smartkeeda is a TRUE GEM… Undoubtedly the BEST coaching for CUET in Agra. At the time of joining this institute, I was not so good at political science although it was one of my favorite subjects. The faculties worked really hard to realize my true potential. They analyzed my weak areas and turned them into my strength. I feel extremely grateful.
4. Raghav Sharma (English 100th percentile, 200/200 marks)
Had a good experience studying here. The management was extremely supportive. They helped me throughout my preparation until I got admitted to my dream college. The best part was the exam analysis and free counselling sessions offered here. They help you in strategizing well to crack the exam. The faculties and guidance experts at smartkeeda are extremely supportive, they constantly motivated me throughout my preparation to perform to the best of my abilities.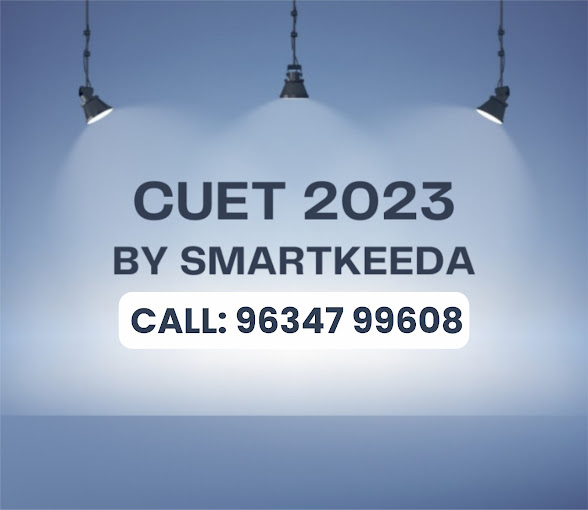 Choosing the right coaching institute for preparation is one of the most critical decisions of a student's life as this single decision holds the power to shape his/her future. We hope this article clears all your doubts & queries and helps you choose the right institute to crack your CUET exam with flying colours.
All the best!
Thanks & Regards
(Team Smartkeeda)
---
Latest Posts
---