Direction : Study the following pie chart carefully and answer the following questions given beside.
The pie chart given below represents percentage of number of students in five different schools viz. A, B, C, D and E. The total no. of students in all the schools is 1,68,000.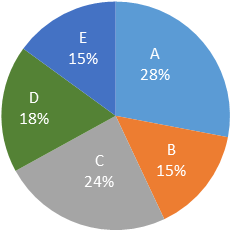 The below table shows the ratio of girls and boys in the given five schools.
| | |
| --- | --- |
| School | Girls : Boys |
| A | 3 : 4 |
| B | 2 : 3 |
| C | 5 : 3 |
| D | 1 : 2 |
| E | 4 : 1 |